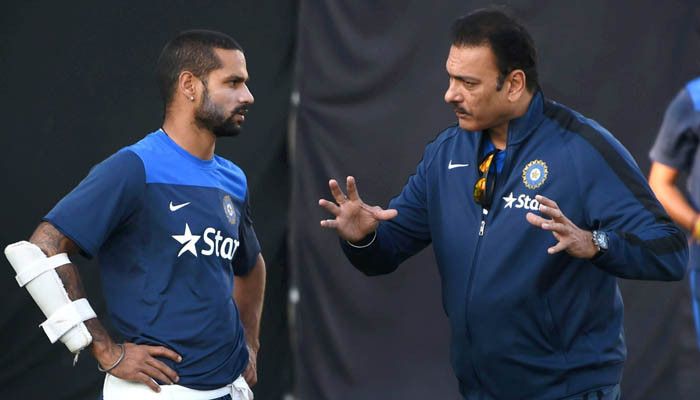 Notwithstanding India's shock defeat in the first cricket Test against Sri Lanka, Team Director Ravi Shastri has made it clear that the team will not change its style of play in the remaining two Tests, saying the endeavour has always been to play "fearless cricket".
He said India lost the match because they brought pressure on themselves and it was just a matter of winning one match to get the team rolling.
In an extraordinary twist in Galle, India capitulated to an embarrassing 63-run defeat against the islanders, who scripted one of the most remarkable turnarounds in recent Test history.
"We won't change our style of play. It will be exactly like how it was in the first match. We made one mistake (in the first game). Of course to close it out we will have to walk the distance... till the end," Shastri told reporters.
Asked if the team was under pressure, the former captain responded in negative.
"It was not a question of buckling under pressure. They sensed the pitch could deteriorate. The pressure was brought on. My general feeling is that if they can get one (victory) on the board it will be the start of many," he said, stressing on the need to have one good win under their belt.
Set a tricky victory target of 176, the listless Indians surrendered tamely to be skittled out for their lowest score of 112 in just 49.5 over to give the islanders a 1-0 lead in the series last week.
"They go out with intent. The endeavour of this team is to play fearless cricket that comes with mindset. These boys have enough talent, I an sure they must have thought after the match why I didn't play this shot, why I didn't play in this manner."
Skipper Virat Kohli's handling of three spinners and the bowling changes in the match have come under the scanner but Shastri threw his weight behind the captain.
"Kohli will learn. The more you play, the more you learn.
It is not often that India play with three spinners.
(Ravichandran) Ashwin was brilliant throughout the match but you needed others also."
It was a dramatic performance from the hosts who came back from the dead after conceding a massive 192-run first innings lead to turn the table on the Indians who had themselves to blame for the debacle. This meant centurions Kohli, Shikhar Dhawan and Ashwin's (10-wicket match haul) efforts went in vain.
India lost the match despite taking a 192-run lead in the first innings with Dinesh Chandimal playing a counter- attacking hundred. Then Rangana Herath and Tharindu Kaushal shared 10 wickets between them to leave Indian batsmen shell-shocked. It has become a trend with this line-up as they struggled against Moeen Ali in England and against Nathan Lyon in Australia.
"I wish they had attacked on that last day and not defended," said Shastri.
"I am not saying start hitting fours and sixes, but attacking by being more positive, playing with intent and keeping busy at the crease. Against Moeen Ali, yes they were too aggressive. Here they were too tentative and too defensive. They should have been more aggressive."
"It doesn't mean be too aggressive, or too conservative.
Don't go hell for leather but play smart cricket. We weren't doing that so there is learning from it. And this is a young team that will learn.
"When you lose a Test like this, it hurts you more than some others. You were ahead in the match and you lost it. So you learn from these kind of matches more than others and hopefully you will see it in the next few days," he added.
Shastri said that there will be some changes in the team for the second Test mainly because of injuries.
"There will be some changes with regards to team personnel. Dhawan's injury was sustained on day one of the first Test when he dropped a catch in slips. He batted in pain during both innings and came out fighting with a hundred on day two, although that knock didn't help his side register a win.
Meanwhile, Murali Vijay is recovering quickly from the hamstring injury, but a final call on his selection for the Test will be made only 24 hours before the match. Stuart Binny was expected to join the team Monday evening. There has been no replacement named for Dhawan as yet.
"This is something you become used to in the modern era with the amount of cricket being played. You have three formats of the game and certain players play all three. So there are bound to be injuries. It also shows you the way forward as to the kind of backups you have. You have to be ahead of the eight ball in a close series like this because there are no gaps in between the Tests," Shastri said.
-PTI