Rohan Raj
| Updated on: 18 August 2015, 19:38 IST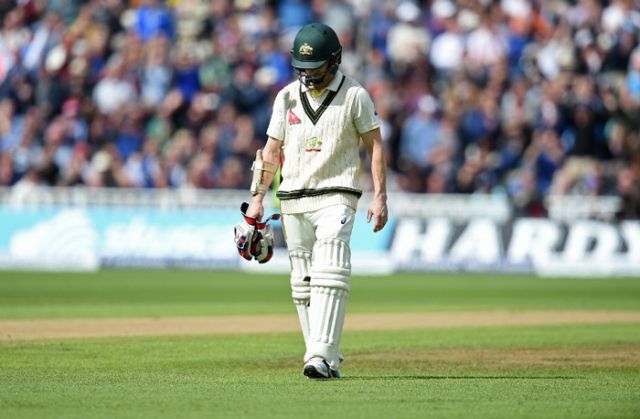 Australian opener Chris Rogers on 18 August announced that he will retire from all forms of international cricket following the final Ashes Test against England at the Kennigton Oval in London.
Rogers, who will turn 38 later this month, had indicated that the ongoing Ashes series would be his last. "I have had an amazing couple of years playing for Australia and enjoyed it and been part of some pretty special things, but everything comes to an end. You are never 100 percent sure, but I felt like this was the last one," Rogers told reporters in London.
"There's been a few things, particularly the head issues lately, so I am quite happy to call it a day. It's time for Australian cricket to make a few changes and bring in a few new guys, a few fresh faces. It's going to be a challenging time, particularly for the new guys but that's part of it," said the left-handed batsman.
In the four Tests of the 2015 Ashes series, Rogers has been the top-scorer for Australia with 437 runs at an average of 62.42, despite retiring during the second Test suffering with dizziness after being struck by a rising ball earlier in the match.
Rogers joins his captain Michael Clarke in retiring from international career after the fifth Ashes Test. Clarke had announced his retirement following Australia's shambolic loss by an innings and 78 runs against England in the 4th Test at Trent Bridge.
England wrapped up the five-match Ashes series following their emphatic victory in the 4th Test that put them 3-1 up in the series.
Here's a look at Chris Rogers' career in numbers:
2008: Chris Rogers earned his first Test cap in 2008 after featuring in the Australian team against India at Perth. However, the left-hander had a forgetful outing with scores of 4 and 15 in the two innings.
9: Chris Rogers is currently ranked ninth in the list of top Test batsmen. It is also his best-ever ranking in the Test cricket.
173: Chris Rogers highest score in Test cricket came against England in 2015 when he smashed a blistering 173 runs in the first innings during the 3rd Test at Lord's.
1972: Chris Rogers has scored 1,972 runs in the 24 Test matches he has played for Australia so far.
222: Chris Rogers amassed his highest total of 222 runs after two innings during the 3rd Test against England at Lord's in 2015. The left-hander scored 173 runs in the first innings and an unbeaten 49 in the second that saw Australia bounce back in the Ashes series following a mammoth 405-run win against England.
5: Chris Rogers has scored five hundreds in the 24 Test matches he has played for Australia.
62.42: Chris Rogers, who is yet to play the fifth Test in the ongoing Ashes series, has already recorded a batting average of 62.42 - his career-best in a Test series.
30: Despite maintaining a first-class average of nearly 50, yet Chris Rogers did not play for the Australian national team until the age of 30 years.
14: In the 24 Test matches he has played, Chris Rogers has scored 15 half-centuries for Australia.
110: After being recalled in the Australian side at the age of 35, Chris Rogers notched up his first Test hundred after scoring 110 against England in the first innings during the 4th Test at Chester-le-Street in 2013.
1: In the 47 innings he has played, Chris Rogers has hit just one six in Test cricket.
43: Apart from playing Test cricket, Chris Rogers has also played 43 T20 games, scoring 627 runs at a strike-rate of 114.62 for Australia.