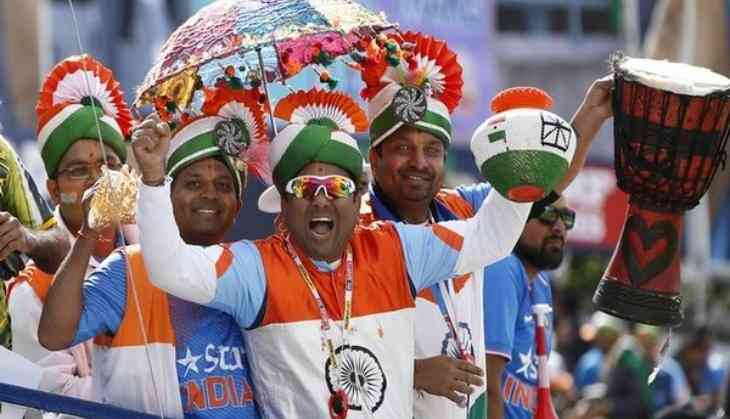 Champions Trophy: 'Go India, Go Kohli': Fans cheer ahead of Ind vs Pak final
The India-Pakistan clash, which is often referred to as the 'mother of all battles', is all set to once-again fill the cricket fans with enthusiasm and anticipation as the two arch-rivals meet each other for the second time in a month's time in the high-voltage final of the Champions Trophy at the Kennington Oval in London today.
As cricket enthusiasts all over world are anxiously waiting for the battle, an air of unusual excitement can be felt among young cricketers across the country as they wish the Indian players all the luck for today's match.
"We are totally confident that India will win. There is no doubt about it. I am already preparing for the win. Everyone is in form," said a cricket fan from Mumbai.
"India is playing well. Even Pakistan is doing well. I think it will be a close match," said another.
"Bhuvneshwar and Bumrah are bowling very well and the batting order is also taken care of by Rohit, Dhawan and Kohli," said a cricket fan.
"I think a final match is taking place between both nations after 10 years. I think it will be a very interesting game. I think Virat is really doing well and India will win," said a fan from Vadodara.
"Pakistan had a really good come back, but we all are sure that India will win," said a fan from Bengaluru.
"It will be a good match because even Pakistan is in good form. But when it comes to winning, it is only India. Pakistan is good with bowling," said a fan from Bhopal.
"Our team is in full form. There is no doubt that India will win. If India keeps playing like this then Pakistan have no chance of winning," said a cricket enthusiast from Delhi.
Meanwhile, assuring that India will be neither intimidated nor arrogant when they face Pakistan in Champions Trophy final, Indian skipper Virat Kohli asserted that there were no favourites in the much-awaited clash.
If the defending champions beat Pakistan today, then they will become the No. 1 ODI team by knocking South Africa off the top spot.
Speaking on the eve of the encounter which is expected to draw in 300 million television viewers in India alone, Kohli remained wary of his side's status as favourites in the match.
The Indian team, considered to be one of the favourites to defend the title, have played to their potential in all the games till now, except the one against Sri Lanka, who surprised the Men in Blue in the group stage.
Pakistan, on the other hand, have also lived up to their "unpredictable" standards, with their comprehensive wins over South Africa and Sri Lanka after the first game debacle against Kohli and Co.
On Wednesday, they knocked previously unbeaten tournament hosts England out of the competition with a comprehensive eight-wicket win in Cardiff.
Kohli also indicated that he would not be making any change in the Playing XI and would go with the same team that played against Bangladesh in the semi-finals.
The Men in Blue have won all three of their previous matches against Pakistan in the knockout stages of International Cricket Council (ICC) tournaments to date.
This will be the fifth time India and Pakistan will have a face off in the Champions Trophy; the record is currently balanced with two victories each.
-ANI