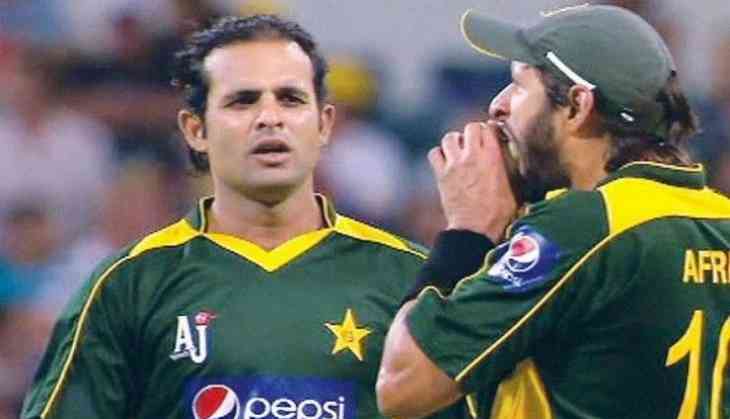 On this day in 2010, Pakistani all-rounder Shahid Afridi was accused of tampering with ball by sinking his teeth into it. Things were not going well for Pakistan as they were thrashed by 3-0 in Tests and were 4-0 down in the ODIs against Australia.
Just before the fifth and final ODI Pakistani captain Mohammad Yousuf suffered knee injury and was replaced by stand-in captain Shahid Afridi. Afridi won the toss and chose to bat first, but things didn't go well for the Pakistanis as they were 2 wickets down for 0 runs.
The 82-run fifth-wicket stand between Umar Akmal and Fawad Alam took Pakistan to 212. Then came Australia's turn to face the ball. Afridi came in to ball in the 17th over when the score board read 66 for 2.
Off his third ball, Cameron White slogged a six over mid-wicket. But the Pakistan all-rounder struck back with his fifth delivery, bowling White off an inside edge.
The Pakistanis saw a chance of winning the match, something that had been incredibly rare that wretched Australian summer. The captain continued to bowl a steady line as Ricky Ponting and Adam Voges built a partnership.
From the other end Shoaib Malik struck with his off-breaks. Both Ponting and Voges were scalped by the off-spinner. And off the last ball of his spell, Afridi got James Hopes caught in the slip. He finished with excellent figures of 2 for 31 from his 10 overs. The score was 150 for 6 at the end of the 39th. The Pakistanis were charged up: Afridi's face told the story of his zeal; he wanted his team to win, just this one match. It had been too long.
Michael Hussey and Mitchell Johnson now slowly nudged the score along. And as Mohammad Asif came back to try and get another wicket, Afridi's jaw was set with the determination to win. The only flaw was that the ball was lodged there somewhere.
Shahid Afridi was caught by cameras biting the ball which led to umpires changing the ball. After the match, Afridi claimed that he was just trying to smell the ball but later he pleaded guilty to ball tampering and was banned for two matches.
Australia went on to win the match by 2 wickets and 4 balls to spare, the Kangaroos dominated Pakistan to win the ODI series by 5-0. Shoaib Malik was given the charge of captaincy for the T20Is as Afridi was banned for two matches.
After the match the score board read
Pakistan: 212 in 49.3 overs (Umar Akmal 67, Fawad Alam 63; Ryan Harris 3 for 44, Clint McKay 4 for 35)
Australia: 213 for 8 in 49.2 overs (Ricky Ponting 55, Michael Hussey 40*; Shahid Afridi ball bitten: 1)