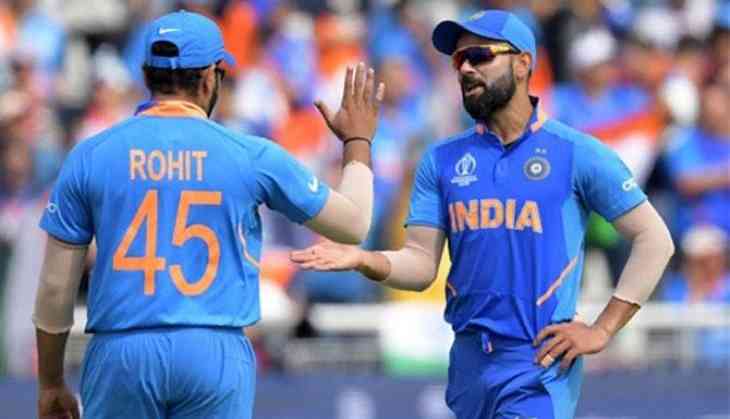 Team India's dismal batting performance on the reserve day against New Zealand at Old Trafford in the semi final of the World Cup not only crushed their dreams of winning the title for the third time but also raised many questions. One of which was the question of skipper Virat Kohli and his deputy Rohit Sharma.
Will a split captaincy from here on between Kohli and Rohit help the men in blue? The Indian cricket team was too dependent on opener Rohit Sharma and skipper Virat Kohli in the World Cup and when both failed to perform during the semi final clash against the Kiwis, it became impossible for the men in blue to make a recovery into the game, Although, Rohit Sharma smashed five centuries with three back to back ones, Kohli also scored five consecutive fifties.
The BCCI is reportedly considering a split captaincy in the long and short formats with Kohli and Rohit taking charge in the two. India generally doesn't have a history of split captaincy eventhough there were few occasions where Anil Kumble led in Tests and MS Dhoni led in the shorter formats.
According to Hindustan Times report that spoke about a board official who felt good teams begin preparations for the next edition immediately after one campaign concludes and England's success in the 2019 edition was an example, The England cricket team started a profound preparation eyeing the 2019 World Cup after they were knocked out in the group stages in the 2015 edition.
After four years of consistency, they made their dream of winning the first ever World Cup come true. It is being thought out within the circle of the cricket authorities that team India should do the same eyeing the 2023 World Cup which will be played at home.
"This would be the right time for Rohit to take over the mantle of the captaincy in the 50-over format. There has been immense support to the present captain and the management and it is time to plan ahead for the next World Cup and for that the existing ideas and plans need a fresh look. We all know some areas need a relook. Rohit would be the right man for the job," the official was quoted as saying.
Nevertheless, the idea of having Kohli and Rohit as captains for different formats also had an issue and that was about the reports suggesting a rift between the two. It was being said that after India's exit from the premier event the two players had their respective loyalists and the atmosphere in the dressing room was not too joyful.
The affair is set to come up at a review meeting in the presence of skipper Virat Kohli, coach Ravi Shastri, chief selector MSK Prasad and the committee of Administrator.