Rohan Raj
| Updated on: 14 February 2017, 5:51 IST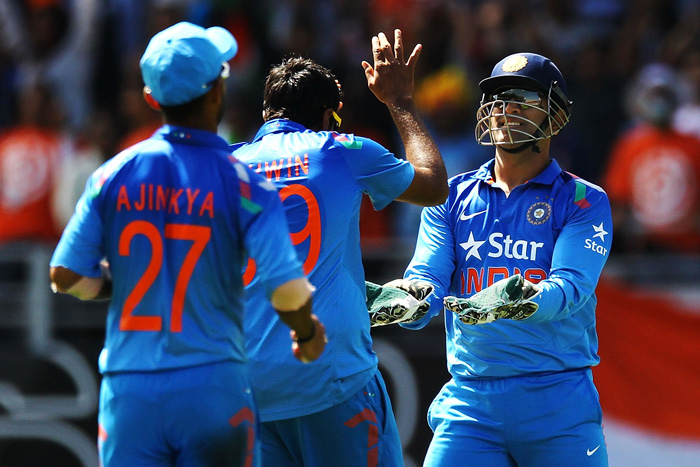 "Well if you see, more often than not, the team that we (India) have played with (this year in T20's), looks like a team that can play in any condition, especially in this format. Let's not talk about the 50-over format. But in T20s, we can play with this team anywhere in the world," Indian captain MS Dhoni said after India crushed UAE by nine wickets in Asia Cup on 3 March.
Also read: How tainted Mohammad Amir won back his fans
The reason why the Indian skipper feels that way is because of the glorious run his side has enjoyed in the recent months. The Indian cricket team is making full use of the opportunities in Bangladesh to find the best possible line-up ahead of the coveted ICC World T20.
Dhoni finally provided the highly-awaited debut to the much-hyped all-rounder Pawan Negi whose recent domestic performances convinced the Delhi Daredevils to shell out a staggering Rs 8.5 crore - the most-expensive Indian player to be sold in this year's IPL auctions.
The 23-year-old cricketer took one wicket and conceded just 16 runs in his decent spell of three overs. The youngster was a livewire in the field as he took two catches and also invoked a run-out. Negi, who goes hammer and tongs with the bat lower down the order, didn't get an opportunity to showcase his batting prowess after Rohit Sharma (39) and Yuvraj Singh (25*) powered India home.
The Dhoni brigade achieved UAE's mediocre total of 81 runs with nine wickets and 59 balls to spare - India's biggest win in T20Is in terms of balls remaining. On the other hand, UAE's total was the second-worst by any team after batting their full quota of overs and not being all out in T20 Internationals.
From Yuvraj's 50 club feat to Rohit's runs galore, here's a look how India's encounter with UAE unfolded, in numbers:
.
Bhuvneshwar has delivered 2 maiden overs during his excellent figures of 4-2-8-2 and became the third Indian bowler after Harbhajan Singh (vs England at Colombo (RPS) on September 23, 2012) and Jasprit Bumrah (vs Pakistan at Dhaka on February 27, 2016) to achieve the distinction in T20Is.
.
UAE (81/9) have recorded their second lowest score in T20Is - the lowest being 73 off 16.4 vs Netherlands at ICCA Dubai on February 3, 2016. The said total is the second lowest by any team without being dismissed while facing 20 overs. West Indies had totalled 79 for seven vs Zimbabwe at Port of Spain on February 28, 2010.
.
Bhuvneshwar has recorded an economy rate of 2.00, equalling an Indian record in a four-over spell in T20Is. Ravichandran Ashwin had figures of 4-1-8-4 (eco.rate 2.00) vs Sri Lanka at Visakhapatnam on 14 February, 2016. It was also India's biggest win in T20 Internationals.
.
Harbhajan Singh has recorded an Economy rate of 2.75 during his superb bowling figures of 4-1-11-1 vs UAE - his career-best in T20Is, surpassing the 3.00 vs England (4-2-12-4) at Colombo (RPS) on 23 September, 2012.
.
Bhuvneshwar Kumar has recorded his best bowling figures overseas in T20Is - his third best - the best ever are 3 for 9 vs Pakistan at Bangalore on 25 December, 2012.
.
Yuvraj has become the fourth Indian player to represent in 50 or more matches in T20Is, joining Mahendra Singh Dhoni (62), Suresh Raina (56) and Rohit Sharma (54).
.
Rohit Sharma has received his fourth Man of the Match award in T20Is. His first three awards were against South Africa (twice) and Bangladesh.
.
India have won seven successive matches overseas in T20Is between 26 January and 3 March, equalling their best sequence in overseas matches. They had recorded seven wins away from home between 30 September, 2012 and 4 April, 2014.
.
In the mandatory powerplay, UAE have scored 21 for the loss of two wickets - the joint-lowest by any team against India in T20Is. Zimbabwe had totalled 21 for the loss of two wickets at Harare on 13 June, 2010.
.
Shaiman Anwar (43) has recorded his second highest score against a Test-playing country in T20Is next only to the 46 vs Pakistan at Dhaka on 29 Feb, 2016. Anwar's highest score in T20Is is 54 vs Oman at Abu Dhabi on 22 November, 2015.
.
Rohit Sharma, with 137 runs at an average of 34.25 in four matches, is the leading run-getter for India in the present tournament.