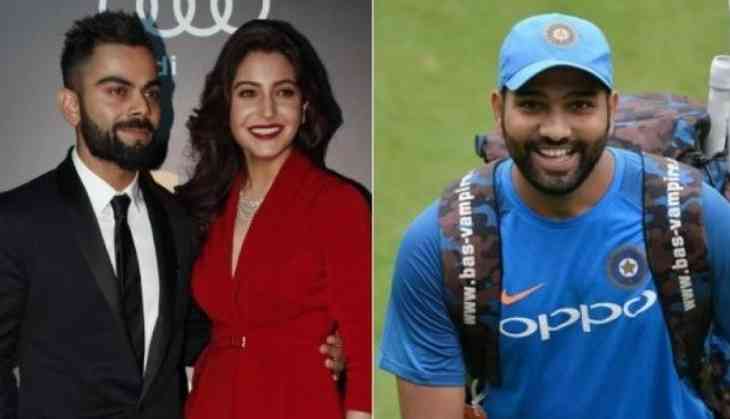 The rift between Rohit Sharma, Virat Kohli and Anushka Sharma is only getting worse and these signs are not at all good for team India.
For the past few weeks, there have been reports that there is a rift betweet the Indian skipper Virat Kohli and his deputy Rohit Sharma. Rohit Sharma had unfollowed Virat from his Instagram account and the cold war between them have been visible for quite sometime now.
Talking about it, a source had told Deccan Chronicle,"There were reports which came out following the World cup about a rift between two senior players in the dressing room, though no names were mentioned."
After unfollowing Virat Kohli on Instagram, Rohit Sharma has now unfollowed Anushka Sharma form the social media platform. Following the incident, Anushka Sharma took to her Instagram account and posted a cryptic message which read, "A wise man once said nothing. Only truth can shake hands with silence in a mess of false appearances." Well, this seems to be a serious issue, indeed!
Previously, relating to this issue, a source had told Mumbai Mirror, "The problem between the two best batsmen started some years ago when Rohit and his opening partner Shikhar Dhawan left the management company that Virat is associated with. At the ICC World Cup 2019, everything appeared hunky-dory until the Indian team's abrupt exit after the semis."
Nevertheless, another journalist told Deccan Chronicle about the management company, "Virat is the captain so the team management will have to give more weight to his opinion and I think they are very good friends."
AlsoRead:http://www.catchnews.com/cricket-news/sachin-tendulkar-shares-viral-video-leave-his-fans-puzzled-see-video-168124.html
http://www.catchnews.com/cricket-news/watch-yuvraj-singh-s-bizarre-dismissal-in-gt20-league-will-shock-you-168169.html