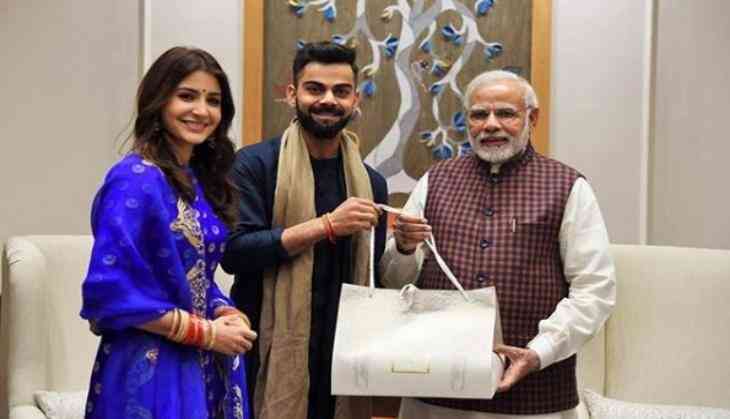 Anushka Sharma and Virat Kohli's reception
Team India captain Virat Kohli and actress Anushka Sharma's marriage is one of the most popular marriages this year. The reception party of both of them took place in Delhi's Taj Diplomatic Enclave. Virat and Anushka reached the stage. Virat was spotted in black colored 'sherwani' while Anushka was in Orange colour sari. The dresses of newly wed couple was designed by famous fashion designer Jatin Kochhar. The arrival of the guests was going on amid strict security arrangements around the hotel.
Prime Minister Narendra Modi also reached Viruska's reception. The Prime Minister stayed there for 10 minutes. He greeted Virushka for a new life. PM presented the bunch of flower Virat and Anushka. On Wednesday, Virat and Anushka visited the Prime Minister and invited him to join their reception party.
Prime Minister Narendra Modi at wedding reception of Virat Kohli & Anushka Sharma in Delhi pic.twitter.com/7JGeaGSJUN

— ANI (@ANI) December 21, 2017
#WATCH: Virat Kohli & Anushka Sharma pose for photos at their wedding reception underway in Delhi. pic.twitter.com/DvmhMLGfKO

— ANI (@ANI) December 21, 2017
Nizamuddin's Batra Tent House has decorated the reception tent. Baby Pink, Cream and Orange color have been specially used in reception tents. New silk fabric has been used in the tent throughout the event.
#virushkareception Here are few more photos of #ViratKohli and #AnushkaSharma from the #virushka reception in Delhi pic.twitter.com/BKzR16AtVD

— POP Diaries (@Popdiarieslive) December 21, 2017