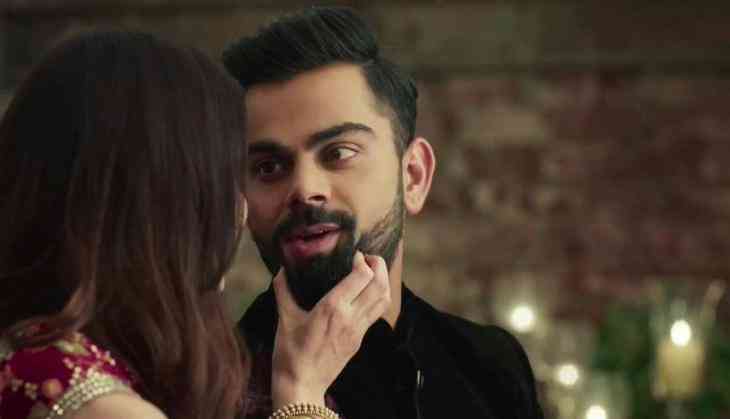 Anushka Sharma and Virat Kohli's reception
Indian cricket team captain Virat Kohli and Bollywood actress Anushka Sharma, the newly wed celebrity couple, was spotted wearing the outfit of designer Sabyasachi Mukherjee in Delhi. 'Virushka' has taken Indian Traditional Look at their reception. Anushka was seen in Red Banarasi saree, whereas Virat wore black 'Sherwani'. Anushka's look was completely reproducing the Indian woman. Anushka was looking very beautiful in 'Banarasi saree' with heavy jewelery.
What a gorgeous couple! @AnushkaSharma and @imVkohli look like royalty for their wedding reception in New Delhi. pic.twitter.com/Lxe4hiGWw4

— Filmfare (@filmfare) December 21, 2017
At the same time Virat Kohli's look was also traditional. Virat has taken a printed shawl of black color on Sherwani. After the reception has been photographed, Sabyasachi has shared photos of celebrity couple dresses on her social media account.
Also Read: Anushka Sharma and Virat Kohli's reception: PM Modi attends Virushka's grand occasion, video goes viral
I am just loving the adorable "देसी" look of @AnushkaSharma and @imVkohli ...

#VirushkaReception pic.twitter.com/0lXQnSTkdQ

— Neetu Garg (@NeetuGarg6) December 21, 2017
Sabyasachi has posted Anushka's look, saying that the bride looks most beautiful in the Indian dress. That's why Anushka wore a Banarasi saree of red colour. Charming Anushka from the red dot, vermilion and mogra flowers is making her even more powerful and graceful.
Delhi: Virat Kohli & Anushka Sharma pose for photos at their wedding reception. pic.twitter.com/WuYZYu9bKe

— ANI (@ANI) December 21, 2017
As far as Virat's clothing is concerned, Sabyasachi has posted that Virat is wearing a silk black-colored kurta which has 18 carat gold buttons.
[PICS] [EXCLUSIVE] @imVkohli & @AnushkaSharma at their wedding reception in Delhi. 💕 #VirushkaReception #VGVK18FC pic.twitter.com/VmZupiAZm5

— Virat Gang - VK18FC (@ViratGang) December 21, 2017