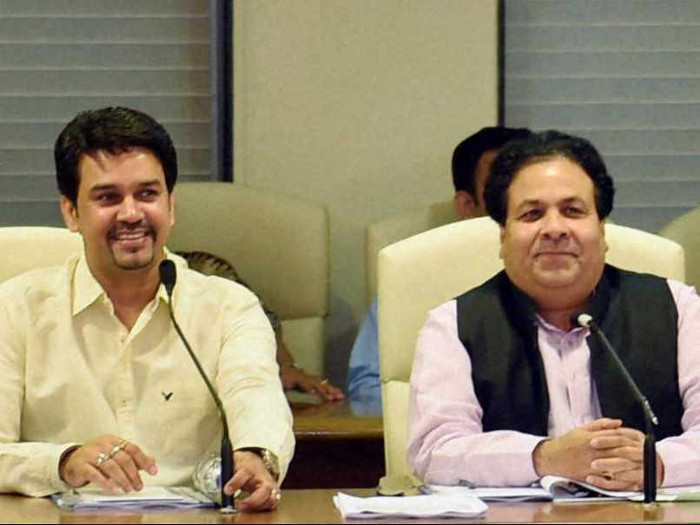 The IPL Working Group set up to look into the implementation of the findings of Lodha Committee report on the 2013 spot-fixing scandal on 8 August met representatives of Mumbai Indians and KXIP co-owner Ness Wadia to complete its series of meetings with the six franchises.
IPL chairman and member of Working Group Rajeev Shukla said that all the franchises have spoken in favour of eight-team tournament. On 8 August the working group completed meeting all six franchises as the two suspended franchises CSK and Rajasthan Royals were not invited for discussions.
"After the Lodha Committee report, we are looking at how the IPL is being continued. We are taking advice from all the stakeholders. We had two meetings in Delhi and today we had one in Mumbai where we met the remaining franchises of MI, KXIP and Sunrisers Hyderabad. Besides, we met (representatives of) both the broadcasters Sony and Star, sponsors CEAT," Shukla told reporters after the meeting.
Kings XI Punjab
The Woking Group met Kings XI Punjab co-owners Ness Wadia and Priety Zinta on 8 August to seek their opinion on the format of the upcoming IPL season. Wadia said, "the perception of league should change and this is a massive opportunity for the turnaround. I also want stability as key investor. So many uncertainties are there."
Wadia also made it clear that he does not want advocate the idea of foreign teams playing in the premier Twenty20 Cricket league. "I am not in favour of inviting two foreign teams to fill in the gap. Why will someone come to see a foreign team play?"
Delhi Daredevils
Delhi Daredevils owner Kiran Grandhi, during his meeting with the Working Group, stressed on revenue aspect associated with the eight-team format. He said that an eight-team format is a must for the commercial viability of the lucrative league.
Grandhi also said that how BCCI manages eight or later 10 teams is their call but economics of the decision should be kept in mind. The Delhi owners stressed on the need to restore the credibility of the league among stakeholders, especially sponsors is paramount.
IPL chairman Rajiv Shukla on suggestions from stakeholders
"We spoke to all of them about what to do after the Lodha Committee suspended two teams for two years. We made it clear that the Lodha Committee report will be implemented in toto. Instead of these teams, what will we do, whether other two teams will be brought in or not and how. All these we discussed with the franchises," he said.
"They gave their views, they gave good advice. We will collect all these advice together, discussed among us (Working Group) and prepare a report. We have been given six-week time till August 31 and we will submit the report within the stipulated time," he added.
Consensus so far
IPL chairman and the Working Group member Rajiv Shukla revealed, "It is very difficult to divulge the proceedings of these meetings. One thing I want to say is that most of them (stakeholders) said they want at least eight teams in the IPL. They don't want six teams. This is what most of the people have suggested."
Shukla further said,"We have taken the advice but we will take a decision. The report will be sent to the IPL GC," he said, adding that the Working Group may submit the report before deadline also.
"We have met all the franchises, including Vijay Mallya. We are now left with meeting with Pepsi and Vodafone. We will meet them in Delhi on Monday and Tuesday," said Shukla.
Termination of Chennai and Rajasthan still an option
"We discussed several issues but there was not much discussion on that (about termination). There is a legal ramification on that and it was not recommended by Lodha Committee report also," IPL chairman Rajiv Shukla said.
Asked about any probable date of IPL Governing Council meeting, he said, "The IPL GC may meet on August 29 but the venue will be decided after consultation with the BCCI President."
(With inputs from PTI)