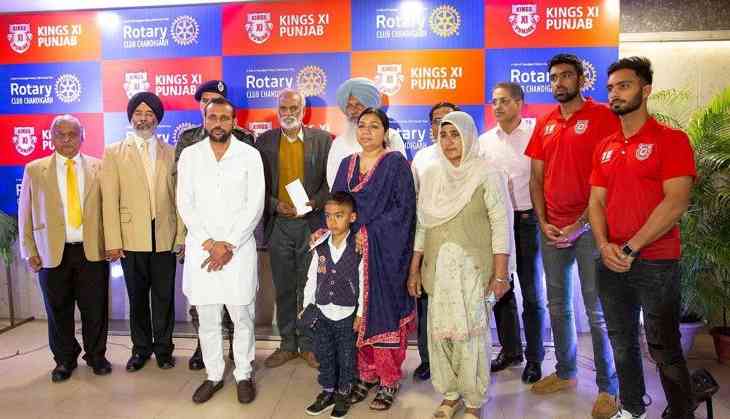 With the assistance of The Rotary Club of Chandigarh, Kings XI Punjab gave cheques of ₹5 lakhs to each of the families of the five CRPF jawans hailing from Punjab and Himachal Pradesh who lost their lives during the Pulwama attack last month.
In a press meet held at Chandigarh on Tuesday, the families of the four CRPF jawans from Punjab and one from Himachal were invited to attend. They were joined by Rotary District Governor Rtn. Praveen Goyal, Rotary Club Chandigarh President Rtn. A.P. Singh, along with KXIP head of operations Anant Sarkaria, CFO LC Gupta, Captain Ravichandran Ashwin and Mandeep Singh.
The CRPF jawans who were remembered were Jaimal Singh from Dharamkot, District Monga; Sukhjinder Singh from Tehsil Patti, District Taran Taran; Maninder Singh Attri from Dinanagar, District Gurdaspur; Kulwinder Singh from Tehshil Anandpur Sahib, District Rupnagar; and Tilak Raj from Kangra, Himachal Pradesh.
"We are extremely grateful to have partnered with the Rotary Club of Chandigarh for this project who have helped us connect with the families of our brave jawans, who put their lives on the line every single day for us," KXIP CEO Satish Menon said "We as a team would like to stand behind and honour their sacrifice."
These five jawans being honoured were part of the 78-vehicles convoy carrying 2,547 CRPF personnel who were ambushed and attacked at Pulwama on 14th February.
Indian Premier League franchise Chennai Super Kings have also decided to donate money to the families of CRPF soldiers killed in Pulwama attack. CSK Director Rakesh Singh announced that ticket proceeds of Chennai Super Kings' first home match against Royal Challengers Bangalore on March 23 will go towards the families of the victims of the Pulwama terror attack.
Earlier, the Indian cricket team wore the Army caps bearing BCCI's logo to pay tribute to the slain soldiers in Pulwama attack. The team also donated their match fee to the families of killed CRPF (Central Reserve Police Force) jawans.
Also read: CSK to donate ticket proceeds to families of Pulwama martyrs, MS Dhoni will present the cheque