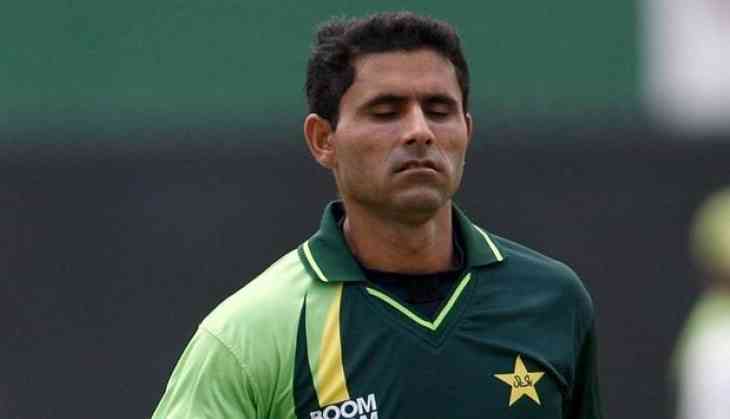 Former Pakistan All-Rounder Abdul Razzaq
Pakistan all-rounder Abdul Razzaq was mercilessly trolled on Twitter for is remark on Indian fast-bowler Jasprit Bumrah.
The 40-year-old, in an interview with cricketpakistan.com.pk, stated that he had played great bowlers like Glenn Mcgrath and Wasim Akram, so Jasprit Bumrah is a baby bowler for him.
The comment did not go down well among the Indian cricket fans, so without any further ado the fans reminded Razzaq of his batting average in Test and ODIs against former Australian pacer Glenn McGrath. While some also caused him to remember his dismissal to Munaf Patel during the World Cup 2011.
Also Read: Former Pakistan cricketer Abdul Razzaq makes big claim about Virat Kohli
Dear Abdul Razzaq,
Your batting average is less than 30 in every format of game and you are thinking that You can dominate JASPREET BUMRAH 😂😂😂
Enjoy Retirement.
Don't create problems for your youngster team by such statements#Bumrah #Razzaq

— Dr anjali (@cricketdoctor) December 4, 2019
Abdul Razzaq 👇👇👇

After Retirement: "Jasprit Bumrah is a baby bowler in front of me. I could have easily dominated & attacked him."

When he was playing: "In 2011 WC, I got out as bowled to Munaf Patel when bowling speed was 116km/hr"@sagarcasm @BijitKa00995410 #AbdulRazzaq pic.twitter.com/3Bv8b6LOL6

— Kangkan Sarma (@imKangkanSarma) December 4, 2019
Abdul Razzaq says he dominated Glenn McGrath so Bumrah is baby bowler in front of him

Abdul Razzaq vs Glenn McGrath
Tests - 20 Runs, 113 balls, 2 Outs, 10 Avg
ODIs - 39 Runs, 35 balls, 3 Outs, 13 Avg

I remember he once said Ahmed Shahzad is more talented than Sachin & Virat 🤣

— Saurabh (@Boomrah_) December 4, 2019
Munaf Patel clean bowled Abdul Razzaq bowling at 116 in 2011'WC.
Same Abdul Razzaq:"Jasprit Bumrah is a baby bowler in front of me. I could have easily dominated & attacked him."
Let that sink in😂 @StarSportsIndia @toisports @FirstpostSports @its_soumalya @BCCI @Jaspritbumrah93 pic.twitter.com/hCEu9ZouIi

— Rajesh Tewari (@RajeshTewari11) December 5, 2019
Majak hei kya !?? 🤭 Pata tha muje December ke ending me #jokeoftheyear Ka award Lene ajayege 😆
#AbdulRazzaq pic.twitter.com/WWdARp8Htb

— Chintan Kalsariya (@iAmchintan69) December 5, 2019
Abdul Razzaq featured in 46 Tests, 265 ODIs and 32 T20Is for Pakistan. He batted at an average of less than 30 across all formats of the game. Razzaq, however was a key player in ODIs for the national side during his playing days and cumulated 5,080 runs.
With that being said, Jasprit Bumrah holds the top spot in ICC's ODI bowlers ranking. Currently he is recuperating from an injury which he picked up while playing against West Indies.
Bumrah was outstanding during the West Indies tour as he took is first Test hat-trick in the second Test.
The 25-year-old is expected to make his comeback during the New Zealand Test series slated to commence from February next year.
Also Read: Happy Birthday Shikhar Dhawan: 34-year-old's top three IPL knocks