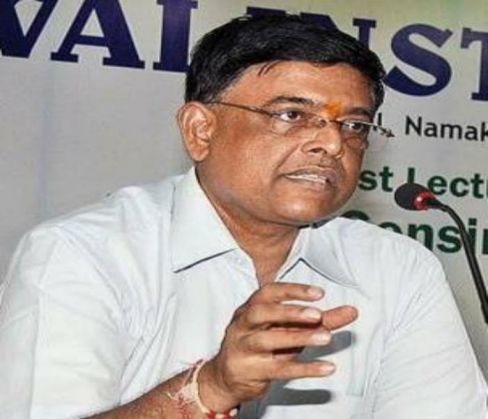 Meteorological department officials don't have a particularly favourable public image when it comes to their weather predictions.
However, as Tamil Nadu recovers from the worst rains in a century, the state's MeT department is basking in a glow of admiration.
The reliable information and timely warnings from the Met department helped a number of people in the state prepare for the worst by stocking up on essentials. One MeT department official in particular has become something of a cult figure in Chennai.
Also read: Meet the IAS officer who was transferred by Jayalalithaa govt for warning about the Chennai floods
Who is this weatherman everyone seems to be talking about?
Meteorological scientist SR Ramanan - who is the Director of Area Cyclone Warning Centre, Regional Meteorological Centre, Chennai - is now known to the people as the man who appears on their television screens and presents an accurate picture of what to expect in terms of weather.
Addressing the media, Ramanan, said, "I am just the face of the operations, a number of departments collaborate and put together data, I only make observations and present it to the media."
The weatherman, who has a career spanning three decades, has been appearing on television channels since 2002 to deliver weather forecasts. However, over the last month, he has become somewhat of a 'cult' hero.
Ramanan now has a dedicated Wikipedia page, as well as fan pages on Facebook. As is with most celebrities, he also has a fake Facebook profile to his name. Most of his fans are from the student population in Chennai.
Also read: Train services, few domestic flights resume from Chennai; here's a list
Why is he being hailed?
As heavy rainfall hit the state in early November, the state government decided to close schools and colleges for two weeks, forcing the institutions to postpone examinations.
Many students believed that it was Ramanan's warnings that prompted the government's decision. The students showered him with praise, and the Facebook pages followed.
Among thevarious Facebook pages dedicated to him, two pages have more than 50,000 likes. Ramanan has also been given names like 'Rain God', 'Cyclone King' and 'Rain Ramanan'.
The fan pages were initially updated with memes and humorous posts about Ramanan. However, with the onset of the heavy rains, the lighthearted content was replaced by helpline numbers, weather forecasts, warnings and other vital information for those stranded in the floods.
According to a Scroll report, Ramanan stated that he wasn't aware that people were putting up information in his name, but he is happy that the efforts went towards helping those in need.
Also read: Here's how the Indian Navy launched rescue operations on a war footing in Chennai
Not even the 'Rain God' was immune to the floods
The floods affected Ramanan as well, with water inundating his neighbourhood of West Mambalam in Chennai. However, this local hero remained committed to his cause and hasn't missed a day of work this week despite the flooding.
He has said that he is a part of the events and has emphasised on his commitment towards disseminating information to the people so that they are prepared in advance.
Ramanan thinks the worst is over in Chennai, but has warned that heavy rain could hit other parts of the state as December progresses.
Also read: Airfare skyrockets to as much as Rs 1,26,039 as Chennai airport shuts down