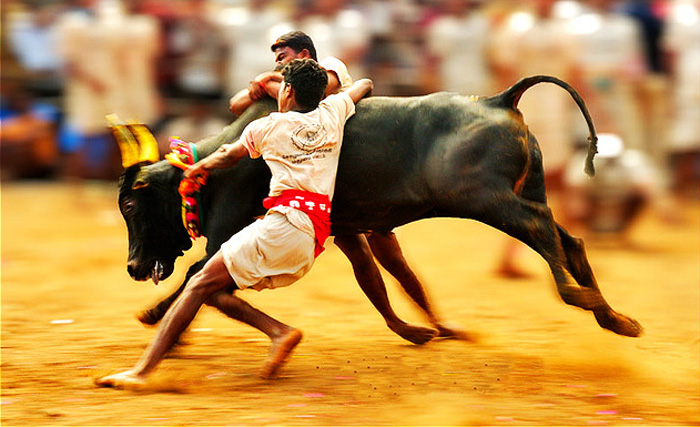 The Bharatiya Janata Party (BJP) led Central government lifted the ban on the popular bull-taming sport, Jallikattu, on 8 January. A 2011 notification by the Ministry of Environment has been altered and the sport is now exempt from performances in which bulls are not allowed to be used.
In May 2014, the Supreme Court had also upheld the Ministry's notification on the basis that bulls could not be trained or exhibited as performing animals.
According to a report in The Hindu, the new notification states that the bulls cannot be used as performing animals, however "bulls may continue to be exhibited or trained as a performing animal, at events such as Jallikattu in Tamil Nadu and bullock cart races in Maharashtra, Karnataka, Punjab, Haryana, Kerala and Gujarat in the manner by the customs of any community or practiced traditionally under the customs or a part of culture."
Why has this step been taken?
Jallikattu is a traditional sport in Tamil Nadu which, according to some claims, has been going on since ancient times. In fact, a 1,500 year old painting found in the caves near Madurai depicts a man trying to tame a bull.
Jallikattu is organised during the Pongal celebrations. No wonder then that a large section of the local population has been demanding that the ban revoked as, according to them, it is an interference in their traditional practices.
There was a lot of political pressure from the state too as Chief Minister J Jayalalitha also wrote a letter to Prime Minister Narendra Modi, asking him to take steps.
Union Minister Pon Radhakrishnan tweeted about the Centre's move.
Thank our PM for facilitating this to happen.I thank everyone who supported #Jallikattu: Pon Radhakrishnan,Union Minister

- ANI (@ANI_news) January 8, 2016
How are the activists responding?
According to media reports, the Animal Welfare Board of India has said that it will challenge the decision immediately.
An online petition on Change.org addressed to the Ministry of Environment and requesting to continue the ban on the sport has been signed by 6,042 people till now.
The popular animal rights organisation, PETA (People for Ethical Treatment of Animals), has also protested the sport in the past.
Environment activists across the country and outside as well have raised their voice against the sport, terming it 'barbaric'.
The new notification has also set some guidelines for the performance. It includes the necessity of explicit permission by a district magistrate or collector to organise the event at any place. Additionall, the bull has to be tamed within 15 metres from the enclosure.
Here's how people reacted on Twitter
Hearing wonderful new #jallikattu ban lifted by the Central Govt.Madurai karanuka pathiya kalapunga!So happy Adv Pongal wishes :)

- Actor Samuthirakani (@Samutirakani) January 8, 2016
Barbaric projection and indulgence in activities such as #Jallikattu, despite being banned by SC does not augur well for us as a society..

- Kiran Bedi (@thekiranbedi) January 8, 2016
In India #animals are protected only in films hence the ticker 'no animals were harmed' Outside movies u r allowed to harm them #jallikattu

- Rohit Khilnani (@rohitkhilnani) January 8, 2016
Unfortunate decision. It is unconstitutional and against SC judgement-Dr.Chaitanya Koduri,PETA #jallikattu pic.twitter.com/hOnt7UoWCi

- ANI (@ANI_news) January 8, 2016
Horse Race is OK, Butchering Cows are OK, #jallikattu is Bad ; Woow.. We dont need Certificate from Pseudo Liberal elitists

- Rahul Easwar (@RahulEaswar) January 8, 2016
#Jallikattu If invited by some organization I wld like to come on Pongal to Chennai and personally handle the first bull ( though I am 70 )

- Markandey Katju (@mkatju) January 8, 2016
You are hypocrite if you oppose #jallikattu but-1) Are Non-Vegetarian 2) Not opposing animal cutting festival3) wear animal products

- Ishkaran S. Bhandari (@Ish_Bhandari) January 8, 2016
#Jallikattu Bullfighting is more a cultural tradition than a sport, wherever it is practiced. Spain,Greece, France, US, #TamilNadu

- Suresh En (@surnell) January 8, 2016