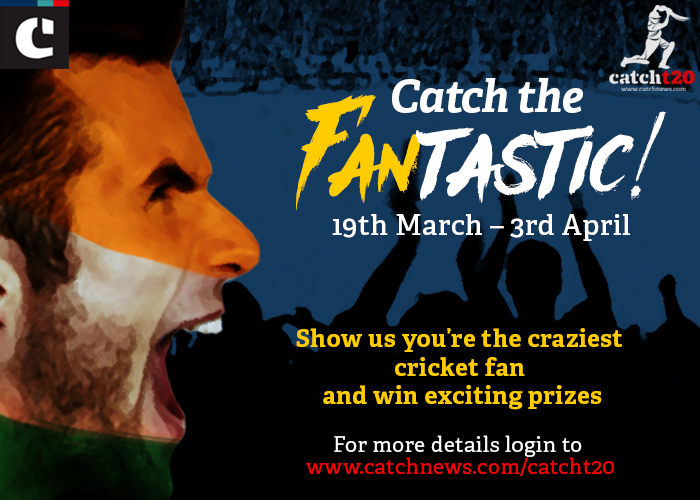 A cricket world cup is often likened to a religious festival by fans of the sport.
There are those fans who do not miss a single match and then there are those that engage in bitter spats online and offline over their cricket teams.
There are also fans in the league of Sudhir Kumar Choudhrie. Yes, the Sachin Tendulkar fan best known for painting his body in the tricolour and waving a huge Indian flag at every outing who has never missed a home match India has played since 2003.
Where do you stand in this spectrum of crazy cricket fans? Do you think you're a cricket fanatic? Prove it!
As the ICC World Cricket T20 unfolds, Catch invites you to be a part of this super cool community of cricket fanatics by sharing photographic evidence of your cricket obsession.
Want to show off your cricket poster collection? Or your precious pile of autographs by cricketers?
How about some crazy photos from your cricket celebrations?
Maybe you like making Team India related crafts.
Whatever shows off your passion for the sport, take a photograph and share it with us.
The contestants with the maximum number of Likes/Shares stand to win some exciting cricket goodies.
The contest is open from 19 March to 3 April 2016.
Remember to tag all your photos with the hashtag #CatchT20
Here's how you can participate:
1) For Facebook users
Like https://www.facebook.com/CatchNews/
Upload your photograph. Remember to tag #CatchT20 and @Catch News. And don't forget to include your email address in the caption.
Share every contest post from Catch News
Invite 5 or more friends to participate
Alternatively, send in your photographs - and details - to [email protected]
2) For Twitterati:
Follow @catchnews on Twitter
Upload your photograph with the hashtag #CatchT20. Mention @catchnews and your email id in your tweets
Retweet every contest tweet posted by @catchnews
Invite 5 or more friends to participate
Alternatively, send in your photographs - and details - to [email protected]
Rules:
Untagged photos will not be considered
You can send photographs in multiple entries Brief description of photo and mention where it was taken We will select the top ten photographs on 10 April 2016, and the selections will be published on the website/FB Page.
Mention your email id in the description.
A total of 10 photos will be selected by Catch. Our judges' decision is final and binding.