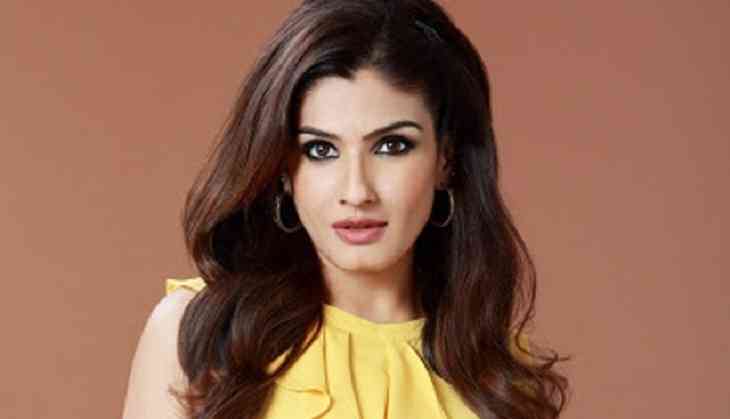 Raveena Tandon (File Pic)
At the trailer release of her film, Raveena Tandon about her film which deals with the rape issue, urgent need to change the judiciary system and the censor board.
Rapes are only increasing in the country. How do you think will this situation change?
First of all the mind set should be changed ,in most of the cases what happens is that victims are forced to re-open their wounds. Also the kind of comments people make that why she was dressed in certain way and why did she step out of the house late in the night. So they shame the victim. In fact they should be considering them as their sister or daughter and apologise to them for failing to protect them. As a woman we need to give right upbringing to our son, to respect and protect, help weaker sex instead of bullying them. We should also start doing this and not only blame men alone, we have to put our foot down if we get to know such incident in any house and tell them to change their attitude. Judiciary needs to bring in some changes as well so that people should start fearing to the laws. No matter how many governments have changed, law against women have never changed. What excuse you will give for girls aged 4-6 getting raped and murdered, you can't blame them for their dressing sense
How do you react to the term comeback?
I find that a very strange term, nobody uses it internationally honestly. I guess everyone becomes selective after a while. I worked in 90's when we used to work in 30 films at a time. The whole trend has changed. I have reached a point where I will do a film in which I believed in. I did few films in between Shobhna 7 Nights which was made for festivals and it won some awards too. I have completed Onir's Shab; I have also been working on TV all along. I don't know after Maatr and Shab I don't know when I will do a film again. So how many times I will make a comeback
Will there be a song featuring Rahat Fateh Ali Khan in your film, considering there is ban on Pakistani artistes?
I feel art, culture, music have no boundaries. Music is something which has no walls. Once the musical notes are out, you can't conceal it.
Do you think now more and more women oriented films are coming?
I think it is a progressive step, you can see at least film industry is taking progressive steps, where women are coming out on their own. Industry has broadened its horizons that today we see varied films roles. I should congratulate the industry for this. I have not seen Naam Shabana but have heard that she had done a good job and I am proud of such films. I feel every week there should be one woman oriented film.
Was it difficult for you to enact the role?
There were few scenes which I dreaded to shoot. I was in tears after narration. Some of the scenes shook me. After shooting those scenes I could not sleep for a few days. The thought of doing something like this was disturbing. We have shot the film on sync sound. However I had to record for it again because there was so much action in the scene, they could not record it. I avoided dubbing for a long time. I had to gather all the courage to do it. So when I saw it again I couldn't stop crying. It was not easy to watch and that is the message which we want to give out that if we cannot see on the screen, imagine the plight of families of victims. Can you imagine one person hurt brutally to another person when we read about Nirbhaya case? We have tied up with save women foundation and I met Nirbhaya's mother. Her tears have not dried up as of now. But the person who has committed this heinous crime is free. After that it is back to business for everyone.
There is a buzz that your film is similar to Sridevi's Mom, so what do you have to say about it?
She is much my senior actress, I respect her a lot. I have always been a big fan of hers. I am proud to say that our industry is making such films today. I will support her in every way and I wish people should make such films which has strong message be it Pink, Maatr or Mom. There is no rivalry.
How do you define your relationship with your mother?
It is very important to have a stable family and upbringing. My parents have been my backbone, they have been there to pick me up when I failed and that is what a mother does.
Your film is going to clash with Sonakshi Sinha's Noor, what is your take on it?
So many films are being made that we don't get release dates. I think it is a good sign. It is difficult nowadays to get proper viewership. Everyone wants a good date as it assures good viewership and your message goes across. So everyone is cutting into everyone's business. Honestly our film is not about business, we are not talking about gender equality, biases but we also hold certain responsibility to educate our sons, brothers, men of our family and taking up a strong stand. These producers too felt that the message the film is going to give out is important. So that was the intention behind making of this film we also know that lot of realistic cinema does not get the audience and box office collection. We are ready to face that as long as the message goes out.
Did you guys face any problem with the Censor Board when getting a certificate for your film?
It is very easy to accuse the Censor Board. This has been happening since decades. My husband is a distributor so I know for how many films he had to fight with so many organisations objecting to something or the other. For one line and one word they have issues and everyone has become so sensitive. Censor Board has certain guidelines, which they have to follow. According to me their hands are also tied. Plus point for us was that they believed in the film, they got the same feedback which we got .They believed in the message of the film. According to their guidelines we can show some things while some we can't. We believe that if we present things in a sugar coated manner, the audience will remain indifferent to the issue. Their attitude will not change. They will not get idea about real world.