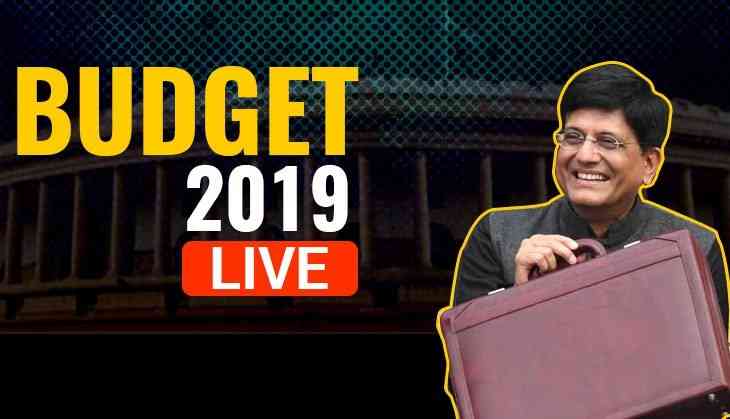 Acting Finance Minister Piyush Goyal is to present the interim budget of NDA government's last budget before Lok Sabha Election that is scheduled in May. However, an all-party meeting Goyal that a 'budget is a budget' and there is nothing like a vote-on-account. All the Parliamentarian and Lok Sabha Speaker Sumitra Mahajan has arrived in the Parliament.
Union Budget 2019-20 LIVE Updates:
01:18 (IST) Sensex surges post-Budget session
Individuals with gross income up to 6.5 lakh rupees will not need to pay any tax if they make investments in provident funds and prescribed equities
11: 58 (IST): 18 % increase in Direct Tax after Demonetization
18% increase in direct tax collections in 2017-18, 1.06 crore people included in the tax base. Also, more than 1 crore people filed IT returns for the first time, after demonetization
11: 53 (IST): GST collections in January 2019 has crossed Rs 1 lakh crore
GST has been continuously reduced resulting in relief of Rs 80,000 crore rupees to the consumers; Most items of daily use are now in the 0%-5% tax bracket
11: 50 (IST): Massive increase in Direct Tax
Direct tax collections increased from Rs 6.38 lakh crore in 2013-14 to almost Rs 12 lakh crore; The tax base is up from Rs 3.79 crore to 6.85 crore
11: 45 (IST)

Allocation for the north eastern region has been proposed to be increased to Rs 58,166 crore in this year, it will be a 21% rise over the previous year
11:41 (IST) One Rank One Pension
Our soldiers are our pride and honour; 'One Rank One Pension', which was pending for the last 40 years, has been implemented by us.
We have already disbursed Rs 35,000 crore for our soldiers under 'One Rank One Pension', substantial hike in military service pay has been announced
11:40 (IST): 26 weeks Maternity leave for women
5% of woman beneficiaries under Pradhan Mantri Mudra Yojana, 26 weeks of maternity leave and the Pradhan Mantri Matritva Yojana, are all empowering women in the country.
11:32(IST): To ensure cleaner fuel and health assurance, we embarked upon Pradhan Mantri Ujjwala Yojana, a programme to give 8 crore free LPG connections to rural households, 6 crore connections have been given already
11:28 (IST): Rs 500 crore for Mega Pension Scheme to provide assured monthly pension:

A pension scheme is being launched called Pradhan Mantri Shram Yogi Mandhan, to provide assured monthly pension of 3000 rupees per month, with the contribution of 100 rupees per month, for workers in unorganized sector after 60 years of age
11:28 (IST) Pradhan Mantri Kisan Samman Nidhi:
This initiative will benefit 12 crore small and marginal farmers, at an estimated cost of Rs. 75,000 crore
11: 25 (IST) 6000 rupees for Farmers
Under the Pradhan Mantri Kisan Samman Nidhi, 6000 rupees will be given direct to farmers per year, in three instalments, to be transferred directly to farmers' bank accounts, for farmers with less than 2 hectares landholding.
11:21(IST): To provide assured income support for small and marginal farmers, Pradhan Mantri Kisan Samman Nidhi scheme has been approved
11:20(IST): For the welfare of farmers and for doubling their income, a historic decision was taken to increase MSP by 1.5 times the production cost for all 22 crops.
11:18 (IST): "Almost 3 lakh crore has already been recovered in favour of banks and creditors, big defaulters have also not been spared by our government," Finance Minister
11:16 (IST): Current account deficit is expected to be 2.5% this year
11:15 (IST): Piyush Goyal in budget Speech: Inflation in December 2018 was 2.1%. The fiscal deficit has been brought down to 3.4% in the revised estimate of 2018-19.
11:10 (IST): "Inflation is a hidden and unfair tax; from 10.1% during 2009-14, we have broken the back of back-breaking inflation," says Goyal.
11:05 (IST): "I can confidently say, India is solidly back on track and marching towards growth and prosperity," says Piyush Goyal
11:02 (IST): Finance Minister Piyush Goyal begins a budget speech in the Parliament
11: 00 (IST): Finance Minister Piyush Goyal rises to present the interim Budget 2019-20