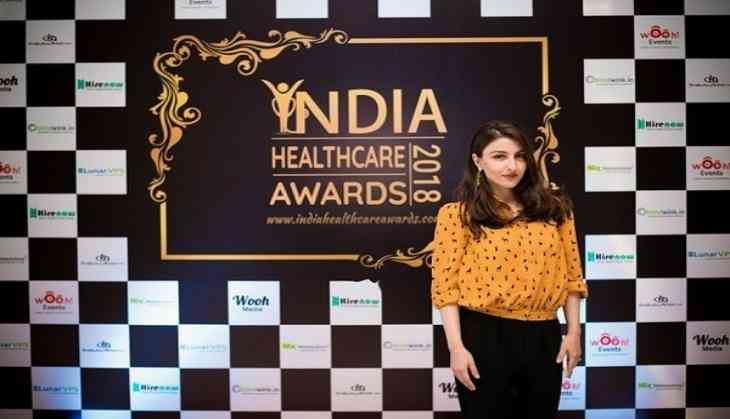 India Healthcare Awards 2018, conceived and initiated by Blindwink.in - the leading market research company is aimed at eulogizing and felicitating the achievers and go getters from the healthcare sector.
The sought-after awards in the sector was organised at Taj Hotel in New Delhi on January 21.
India Healthcare Awards 2018 recognised achievers, innovators and leaders for demonstrating innovation, dedication, creativity and excellence in the healthcare sector.
The awards were the result of tireless efforts of Blindwink.in spread over 3 months, which included nomination, comprehensive market research, opinion survey, web research, categorisation of the nominations based on various parameters and finally choosing the winners through a panel of distinguished jury.
Soha Ali Khan, Bollywood actress, was the chief guest who gave away the award certificates to the title holders in their respective categories.
Addressing the gathering, Soha said the awards were in recognition for services rendered and are an essential part of every industry, be it an organisation or an individual. Receiving an award indicates honour and respect that encourages and instills confidence.
This initiative from Blindwink.in to promote the healthcare sector and recognise the achievers was commended by her.
The list of awardees of the prestigious India Healthcare Awards, 2018 are:
Prof. (Dr.) Bhupendra Chaudhary - Outstanding Neurologist In UP, Dr. Gaurav Narain Gupta M.D., D.M. - Best Interventional Cardiologist In Gorakhpur, Dr Naveen Bhamri - Best Interventional Cardiologist & Entrepreneur In North India, Dr Prashant Saxena - Outstanding Pulmonologist Of The Year, Magna Centres For Obesity Diabetes & Endocrinology - Best Hormonal Speciality Hospital (South), Dr. Ch. Sashidhar - Most Promising Nephrologist In Hyderabad, Dr Chhatrapal Watti - Best Neuro - Anaesthetist & Pain Specialist In Chhattisgarh, Dr. Parthasarathi Dutta Roy - Best Consultant Dermatologist In Karnataka, Dr Ishant Kumar Chaurasia - Best Laparoscopic And Bariatric Surgeon In Chhattisgarh, Dr. Gaurav Maheshwari - Most Preferred Gastro-Onco Surgeon In Punjab, Dr. Braj Pal Singh Tyagi - India's Most Successful ENT Surgeon, Dr. Dattatray B. Bhusare - Outstanding Pediatric And Neonatal Surgeon In Maharashtra, Kiranpreet Kaur - Most Promising Psychologist/ Counsellor In New Delhi, Dr. Nisha Khanna - India's Best Marriage & Family Counsellor, Dr Meraj Aziz Quadri - Most Preferred Psychiatrist In Marathwada, Dr. Devinder Preet Singh - Best Orthodontist Of The Year, Dr. Abhishek Kumar Raja - Best Dental Surgeon In Eastern India, Tezpur Super Speciality Dental Care - Best Super Speciality Dental Clinic In Northeast For The Year 2018, Dr. Rashi Chaturvedi - Best Cosmetic Dental Surgeon In Meerut Of The Year, Dr. Roshan H. Kolhe - Outstanding Dental Surgeon & Entrepreneur Of The Year (West), Dr. Payal Agarwal - Most Preferred Cosmetic Dentist & Laser Specialist In Ghaziabad 2018, Dr Abhinav Singh - Best Dentist In Lucknow, Dr. Ambuj Chandna - Best Dentist And Orthodontist In Sonipat, Mattison Memorial Hospital, Hapur (U.P) - Best Multispeciality Dental Clinic - Multiple Chairs, Dr. Rukh Baiz - Most Admired Dentist In Delhi, Nutritionist Dr. Dt. Sheenu Sanjeev - Best Dietician, Nutritionist Delhi -NCR, Ms. Ramya Ramachandran - Most Promising Nutrition Expert In Chennai, Physiofit - Best Physiotherapy & Fitness Center In Gujarat, Dr. Swapna Komaragiri - Best Physiotherapist In India, Dr. Suresh Mahadevappa Angadi - Best Homeopathic Doctor In Hyderabad, Dr Amol U Ravande - Outstanding Homeopathic Physician In Maharashtra, Dr. Sens Herbo Health Care Pvt. Ltd., Kolkata - Best Ayurvedic & Unani Clinic in India (East), Asif Memorial Health Care - Best Diagnostic Centre In North India Of The Year, MSR Health Care Clinic - Best Quality Diagnostic & Laboratory Operational Service In Telangana, Harsha Modern Diagnostic Services & Modern Medical Centre - Most Advanced Hi-Tech Healthcare Diagnostic Centre In Mangalore, Miv Therapeutics (India) Pvt Ltd. - India's Best Innovative Medical Devices Company, Swarg Community Care - The Best Aged Care Home In India 2018, Olivet Pharma Pvt. Ltd - Best Super Speciality Ayurveda Clinic In Eastern India, Prof. Dr. Hari Parkash - Lifetime Achievement Award In Oral Health, Dr. Harsh Kumar - Best Dentist & Cosmetic Surgeon In Bihar, Dr. Poorya Naik Ds - Best Orthodontic Care In Davangere, Dr. M. Haneesh - Best Endodontist In Chennai, Dr. Aazam Ahammed Puthan Purakkal - Outstanding Dentist Of The Year, Dr. Sunil Garg - Best Young Physiotherapists Of Haryana, iCare Clinic Pashan, Pune - Best Multidisciplinary Clinic In Pune, Dr. Deepa Tomar - Best Affordable Healthcare Service To Society In Ghaziabad, Dr. M. S. Alam - Best Periodontist & Implantologist In Delhi, Dr. Athreya Rajagopal - Most Preferred Oral & Maxillofacial Surgeon In New Delhi, Dr. Chetan Maroti Kowe - Most Promising Dentist In Gadchiroli, Dr. Shashank Tripathi - Best Oral And Maxillofacial Trauma Care Centre In Uttar Pradesh, Dr. P. L. Ravishankar - Best Periodontal Healthcare Excellence Award, Dr. Akanksha Sachdeva - Most Promising Prosthodontist In Bangalore, Dr. Bikas Mandal - Best Orthopaedic Surgeon In Bangalore, Dr. (Mrs.) Amiya Kachari - Outstanding Gynaecologist & Healthcare Entrepreneur In India (Northeast), Dr. Ramandeep Singh - Best Oral & Maxillofacial Surgeon In Western Punjab, Dr. Akhil Manocha - Best Emerging Dentist Of The Year, Dr. Roopangi Modgil - Excellence In The Field Of Gynaecology, Shanti Clinic & Nursing Home - Best Hospital In Upper Himachal Pradesh, Dr. Ramesh Kumar Ojha - Health Care Services In India In Remote Areas, Dr. Piyush Kakadiya - Outstanding Embryologist Of The Year, Dr. Rajeev K Bhadani ( PT) - Best Physiotherapist In West Bengal, Dr. Payodhi Dhar - Excellence In Awareness & Treatment Of Cardio-Metabolic Disorders, Dr. Santosh Bhardwaj - Best Emerging Physiotherapist In Chhattisgarh, Sneh hospital & IVF centre - Best Male Infertility Specialist & IVF Centre Of India 2018.
--ANI