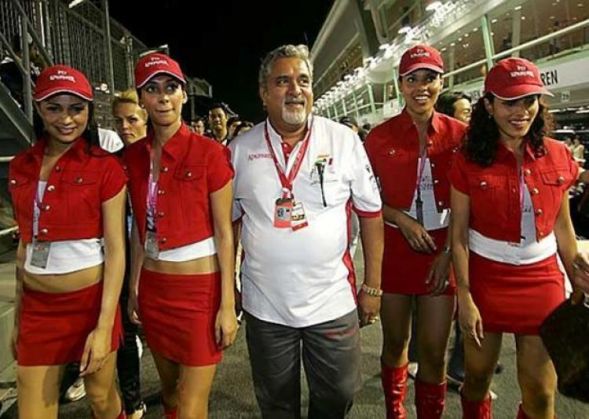 Vijay Mallya, the infamous 'Richard Branson' of India, currently embroiled in a major controversy over non-payment of dues worth Rs 9,000 crore to a consortium of 17 banks in India is apparently living it up in London.
An NDTV report mentions Mallya's latest pad to be just two buildings away from Madame Tussauds' wax museum on Baker Street in London. This location is famous for housing the rich and famous of London society.
Reports also indicate that Mallya could well have more than two houses in London, one which is in the central metropolis and the other one in a little village called Tiwen, in the northern outskirts of the city.
Most locals from Tiwen village are slightly familiar with Mallya's love for opulence.
"He visits the local pubs regularly. Even yesterday, a lady in a Black Audi car with 'Force India' written on it was here to meet him. I can tell when he is in town because there is a buzz around when he moves around in several fancy cars. His house is among the biggest in our county," said a villager to NDTV.
The report also adds that Mallya had several visitors in the last two days at this country home, as noted by villagers.
More about Mallya's bungalow:
Ladywalk is apparently the biggest bungalow on Queen Hoo road and is spread over 30 acres with CCTV cameras at the entrance.
The staff at the bungalow initially told reporters that Vijay Mallya was in but quickly changed their stance on learning about the presence of media people.
Why isn't the government taking action?
The Supreme Court on Wednesday asked for a notice to be sent to Vijay Mallya through the Indian Embassy in London, believing he has been in the UK since 2 March.
The court issued notice to Mallya on a petition by 17 banks to stop him from leaving India over the massive debt owed to them by Kingfisher Airlines.
Meanwhile, the government told the court that he had already left on 2 March.
Former employees of Kingfisher Airlines have been protesting the government's 'inaction' against Vijay Mallya. "I will sue the government for gross negligence if no action is taken. The government, state banks including SBI, are equally at fault along with Mallya. How can banks including IDBI and SBI issue loans without checking the financial records of the company," fumed a former employee on condition of anonymity to Catch.
Read: Banks, including SBI, at fault for neglecting 'bad loan' situation, say former Kingfisher employees