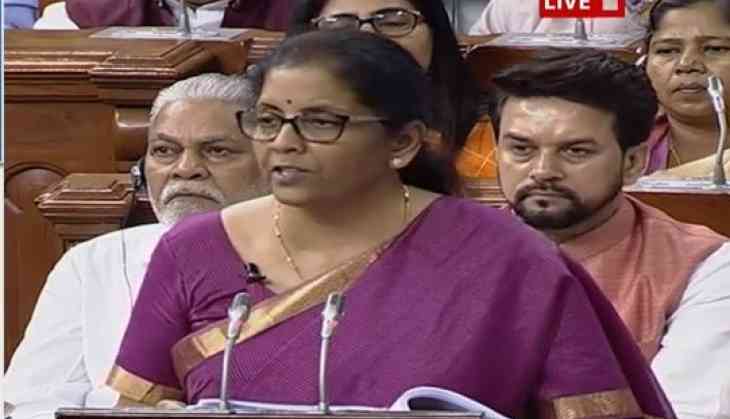 Finance Minister Nirmala Sitharaman
Finance Minister Nirmala Sitharaman became the second woman in the history of independent India to present the Union Budget. As she started presenting the Union Budget in the Parliament, there were many important announcements she issued.
Here are FM Nirmala Sitharaman's top ten announcements:
1) Rs 350 cr allocated for 2% interest subvention for all GST-registered MSMEs on fresh or incremental loans. Pension for shopkeepers & retailers with turnover less than Rs. 1.5 crore to be launched under Pradhan Mantri Karma Yogi Maan Dhan Scheme.
2) The first term of PM Narendra Modi led NDA govt stood out as a performing govt. Between 2014-2019 he provided a rejuvenated centre-state dynamics, cooperative federalism, GST council and strident commitment to fiscal discipline.
3) The Indian economy will grow to become a $3 trillion economy in the current year itself. It is now the sixth largest in the world. 5 years ago it was at the 11th position.
4) It took us over 55 years to reach $1 trillion dollar economy. But when the hearts are filled with hope, trust & aspiration, we in just 5 years, added $1 trillion.
5) Schemes such as 'Bharatmala', 'Sagarmala' and UDAN are bridging the rural and urban divide, improving our transport infrastructure.
6) Comprehensive restructuring of National Highways Programme will be done, to ensure the creation of National Highways Grid of desirable capacity.Government envisions using rivers for cargo transport,it will also decongest roads and railways.
7) Govt will invite suggestions for further opening up of FDI in aviation sector, media, animation AVGC and insurance sectors in consultation with all stakeholders. 100% FDI will be permitted for insurance intermediaries.
8) To further encourage women entrepreneurship, Women Self Help Group(SHG) Interest Subvention Programme to be expanded to all districts in India.
9) Non-performing asset(NPAs) recovery of Rs 4 lakh crore over the last four years, NPAs down by Rs 1 lakh crore in the last one year.
10) I propose to consider issuing Aadhaar Card for Non Resident Indians (NRIs) with Indian passports after their arrival in India without waiting for the mandatory 180 days.