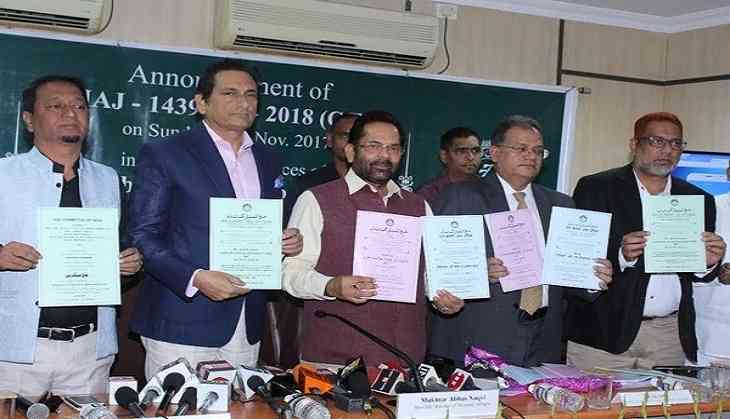 Union Minister for Minority Affairs Mukhtar Abbas Naqvi announced the process of Haj 2018 here in the press conference today.
While making the announcement of Haj 2018 at Haj House, Naqvi said that this time, the Central Government has announced Haj process one month before in comparison to the last year.
This will provide enough opportunities for all the concerned agencies to make preparations well in advance so that world class facilities to the Haj pilgrims are ensured. Haj 2018 related process started today. People can apply for Haj from 15th November.
Naqvi said that Haj 2018 will be performed according to the new Haj Policy. The high-level committee, constituted to frame the new policy, has already submitted its report and Minority Affairs Ministry has been looking into its recommendations.
The new Haj policy aims to make Haj pilgrimage more comfortable, smooth and transparent. Pilgrims' safety and their facilities are our priority.
Naqvi also launched a new Haj Mobile App, based on modern facilities and technology. This app will make Haj application process easier and comfortable. Applying for Haj, enquiry and information, news and updates and e-payment are main features of Haj Committee of India Mobile App. Application for Haj can be made directly from the app. Registration fees can also be made through this app.
Naqvi said that the Central Government has been working to make the entire Haj process online so that people can get an opportunity for the pilgrimage with complete transparency and comfort.
Chairman of Haj Committee of India Mehboob Ali Kaiser said, "The online application should be done in huge numbers, this will benefit Pilgrims on one hand and on the other hand Haj Committee staff will also get a chance to work very smoothly. The Central Haj Committee will request all State Haj Committee to promote the online application. Haj Committee of India will request the Saudi Arabian government to make Indian immigration online for Haj, so that after landing on Saudi Arabian airport, Indian hajis do not have to wait too long and face problems. The chairman further said that online immigration has also been reviewed by the Haj Review Committee. The Central Government has also been pressurized that they will talk to the Saudi Arabian Government in this matter.
Dr. Maqsood Ahmed Khan, CEO of Central Haj Committee said that Before this time, Indian hajis were kept in the darkness, but this time Haj Committee gave complete information about the Haj expenditure in the Haj application. Hajis who use embarkation points of small towns did not know that there is a huge reduction in air fares if they use the embarkation points of big cities. Keeping these things in mind, the Haj Committee has adopted a transparent system.
Shri Naqvi said that the new Haj policy includes maintaining the reservation for people above 70 years age wish to go for Haj and allowing women over 45 years of age in a group of four or more for Haj without a male relative or "Mahram". Shri Naqvi said that the report on new Haj policy is under consideration of Minority Affairs Ministry and positive discussion is going on, on keeping the number of embarkation points as it is at 21 at present.
For the first time, for Haj 2018, details of total expenditure to be incurred by the pilgrims is given in the Haj application form. This is a step towards transparency. Haj application form for 2018 also contains the embarkation points-wise detailed air fare comparison which will be beneficial for the pilgrims as for the first time they will get option for embarkation points of their own choice.
For example, Haj airfare per pilgrim from Sri Nagar is Rs 1,09,692 while from Delhi it is Rs 73,697. So the pilgrims from Jammu and Kashmir can opt for Delhi embarkation point. Similarly, the Haj airfare from Guwahati is Rs 1,15,646 per pilgrim while it is Rs 83,027 from Kolkata. So, the pilgrims from states of Assam, Meghalaya, Manipur, Arunachal Pradesh & Sikkim can opt for Kolkata. Pilgrims from Gaya, where the airfare is Rs 1,13,680 can also opt for Kolkata. This will ensure that the pilgrims don't face problems even after abolition of Haj subsidy.
Shri Naqvi said that Haj 2017 was very successful and smooth as the Central Government had completed all the necessary preparations well before time in cooperation and coordination with concerned agencies. A total of 1,24,940 Haj pilgrims performed Haj 2017 by 454 flights between 24th July to 28th August through Haj Committee of India. About 45,000 pilgrims went through private tour operators. India's Haj quota for 2017 had been increased significantly by Saudi Arabia Government to 1,70,025.
Haj pilgrims from India went to Saudi Arabia from 21 embarkation points- Delhi, Mumbai, Goa, Guwahati, Lucknow, Mangalore, Varanasi, Srinagar, Kolkata, Gaya, Ranchi, Bhopal, Bangalore, Nagpur, Ahmedabad, Aurangabad, Chennai, Cochin, Jaipur, Indore, Hyderabad.
From Ahmedabad, a total of 11073 Haj pilgrims went to Haj this year. Besides Ahmedabad, Haj pilgrims went through Aurangabad (2764); Bangalore (4734); Bhopal (1758); Chennai (3440); Cochin (11805); Delhi (16627); Gaya (6484); Goa (656); Gauhati (4472); Hyderabad (6347); Indore (1794); Jaipur (4767); Kolkata (10263); Lucknow (12314); Mangalore (768); Mumbai (6297); Nagpur (2181); Ranchi (3133); Srinagar (8103) and Varanasi (5072).
-ANI