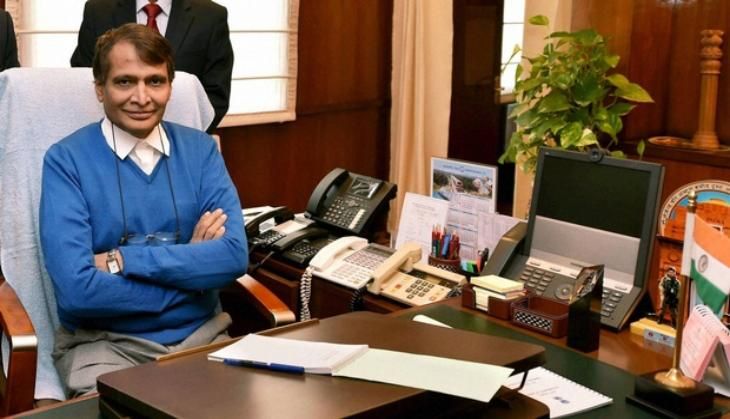 The Indian Railways has set an ambitious target to electrify 24,000 kilometres long track by 2021, Union railways minister Suresh Prabhu said today.
Prabhu said the electification will help in running trains in a faster and cleaner manner. It will also help railways in reducing the energy bill considerably, he said.
"Railways' expenditure on energy is the second highest after salary and pension bill. Expansion of electrified routes across the country will also help in reducing the energy bill as we have committed to reduce the energy cost," he said at global seminar on Mission Electrification and Decarbonisation of Indian Railways.
Describing the event as an "important milestone", Prabhu said, "When railways started its operation it used horses to pull the train. Now we are using horsepower to move trains at faster pace. So it is back to roots."
Currently, about 2,000 km track is being electrified in a year and the aim is to reach 4,000 km per year by 2017-18 and 6,000 km in the subsequent year.
Talking about mission electrification, Prabhu said, "The target is electrification of about 24,000 km in the next five years and the electrification will also reduce the energy bill. We have tied up with three PSUs to increase the pace of route electrification. With the expansion of electrification of majority of rail network, railways will run trains in a faster and cleaner manner."
In order to fast track the pace of electrification, Railways have joined hands with three PSUs - IRCON, RITES and PGCIL.
He also asked the three PSUs to compete with each other to complete the electrification work faster.
Railways expect to reduce fuel bill by Rs 10,000 cr annually through electrification of major routes.
Expressing concern over the ever-increasing pollution, he said, "Carbon emission is a major challenge in India and also in the world. We have reached level where carbon cannot be absorbed. We have to reduce the greenhouse gas significantly to prevent ill-effect of pollution on human lives."
He said using clean energy including solar and wind power is key to reduce the emission level.
"Through electrification trains speed will go up. We have framed a time frame. Three PSUs have been roped in to do the electrification. It is very important for the environment point of view."
Prabhu also highlighted railway's partnership with various ministries including power, science and technology, environment to achieve its goal.
A new App for monitoring energy conservation scheme was also launched at the event.
--PTI