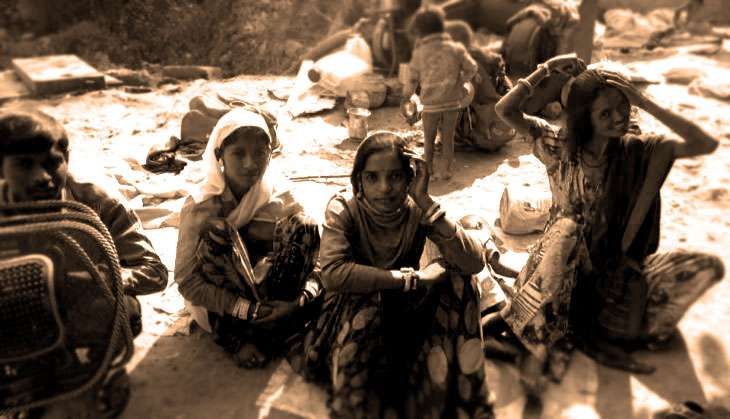 "Hamaari toh marne ki stithi ho gayi hai (we are close to death)," says an utterly disheartened 30-year-old woman sitting with her family of 15, mostly children, at a pavement in Delhi's Adhchini. Virtually in tatters despite the fact that winter has almost set foot in the city, this family from Bhilwada, Rajasthan, is ruing the lack of daily wages needed to survive.
The family survives by selling flowers, books, car accessories, tissue boxes among other low-margin items to people sitting in their swanky cars, waiting for the traffic light to turn green
When asked if she is aware of the demonetisation of Rs 500 and Rs 1,000 notes, the woman exclaims, "Bandh kar diya kya (have they been discontinued)?" seeking an answer.
When Prime Minister Narendra Modi addressed the nation at 8 pm on 8 November and spoke about demonetising high denomination notes, people across the country rejoiced, citing the move as "bold". Hailing PM Modi for the crackdown on black money, the nation was elated, little aware of the adversities which were soon going to come knocking at their doors.
This family, which has 4-5 men, mostly between the ages of 15-22, would earn around Rs 500 per day, before demonetisation. "It was enough for us to buy flour, lentils and vegetables. Now that the notes are banned, we hardly manage to earn Rs 200 a day. We have children to feed. They go to school everyday," says a 22-year-old boy, who claimed he had an inkling about what demonetisation was all about.
"We are not literate... We can't read or write. We do not have TVs. How we know what is going on in the country? Though we did realise something was afoot when swanky car passengers refused to part with money all of a sudden," he claims.
Pointing at three to four children running around in worn-out clothes, the woman asks, "How do we feed them? How do we eat?"
On being asked if they have any bank account, she answers, "We have no account. We do not know about those facilities. All we had were savings of Rs 5000-6000 in cash, mostly Rs 500 notes, some Rs 1000 too. Now that we cannot use them anymore, it has become very hard for us to survive here."
The young man interrupts to say, "When we knock at the windows of cars trying to sell car covers and accessories, they tell us - hamaare paas khud khaane ko paise nahi hain, tumko kya denge (we hardly have enough to eat, what do we give you)."
"They say they will buy whatever we are selling, but they offer a Rs 500 note and ask us for change. How are we supposed to give them change when we are already struggling to make some money and feed our children?" he continues.
"Gareebon ka to marna ho gaya (the poor are close to death)," the woman says in a broken manner. She says if her children were not studying here, they would have gone back to their village in Rajasthan.
"We know this man. He has promised us to exchange our money with Rs 100 notes. We have given him all our savings. He can be trusted," she adds.
These are people who live below the poverty line, who beg, sell items everyday to ensure that their family doesn't sleep on an empty stomach. They do not know what black money is, how it is generated and who has it. They are oblivious to economic reality, and yet they are the ones who are hit the hardest.
PM Modi addressed India from Tokyo on black money and demonetisation, urging people to support him for 50 days and bear the "mild" inconvenience.
I asked her - Kya aapko pata hai humaara Pradhaan Mantri kaun hai (Do you know who our Prime Minister is? "Wo kya hota hai (what is that)," she counter-questioned.
Good question, Ma'am, good question.
Story edited by Abha Srivastava