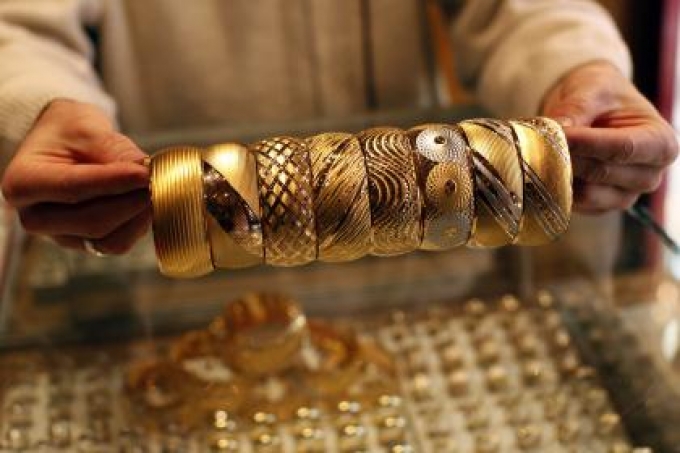 With an aim to curtail the demand for physical gold in India, Prime Minister Narendra Modi launched three gold related schemes on Thursday.
Finance Minister Arun Jaitley had announced the curbing of gold imports during the 2015-16 Union Budget speech a few months ago. This was done as gold imports had led to current account deficit ballooning to 4.7 per cent of the GDP in FY13.
The schemes include the 'India gold coin' bearing Ashok Chakra, gold monetisation and sovereign gold bond schemes.
"People should take advantage of the golden opportunity to help India march to a golden period," Prime Minister Modi said.
He observed that there is no reason why a country, which has 20,000 tonnes of gold lying idle with households and institutions, should remain poor. With some efforts and right policies India can get rid of this tag of a poor nation, he said.
The reason behind the move
The government cleared the gold monetisation schemes and the sovereign gold bonds scheme. Both aim to curb imports of gold by reducing its demand in the physical form and instead channelising it into the formal financial sector. "It is safer and economically more stable to go under both these schemes," finance minister Arun Jaitley had said in September.
Catch looks at these schemes in detail:
Gold Coins
Ahead of Dhanteras and Diwali, these coins will be available in denominations of 5 and 10 grams. A 20 gram bar or bullion will also be available.
About 15,000 coins of 5 gm, 20,000 coins of 10 gm and 3,750 gold bullions will be made available through MMTC outlets.
The gold coin will carry advanced anti-counterfeit features and tamper proof packaging that will aid easy recycling and will be distributed through designated and recognised MMTC outlets.
Gold monetisation scheme:
This scheme facilitates the depositors of gold to earn interest on their metal accounts. Once the gold is deposited in the metal account, it will start earning interest on the same.
Indians can make deposits under the gold monetisation scheme. The minimum deposit at any one time will be the raw gold equivalent to 30 grams of the precious metal of 995 fineness.
What you need to know
The Gold Monetisation Scheme will earn up to 2.50 per cent interest rate on idle gold. The interest rate on Medium and Long Term Government Deposit (MLTGD) are 2.25 per cent and 2.20 per cent, respectively.
The tenure of gold deposits is likely to be for a minimum of one year. The minimum quantity of deposits is pegged at 30 gram to encourage even small deposits. The gold can be in any form, bullion or jewellery.
The tenure of the medium term would be between 5-7 years while the long term would for 12-15 years tenure.
Sovereign Gold Bond:
Sovereign gold bonds are available both in demat and paper form and will be issued by the RBI on behalf of the Government of India.
What you need to know
The bond will be restricted for sale to resident Indian entities. The maximum allowable limit is 500 grams per person per year.
The RBI has fixed the public issue price of sovereign gold bonds at Rs 2,684 per gram. These bonds will be issued in denominations of 5, 10, 50 and 100 grams of gold or other denominations.
Applications for the bond will be accepted from November 5-20. The bonds will be issued on November 26.
The bonds will be sold through banks and designated post offices as notified.