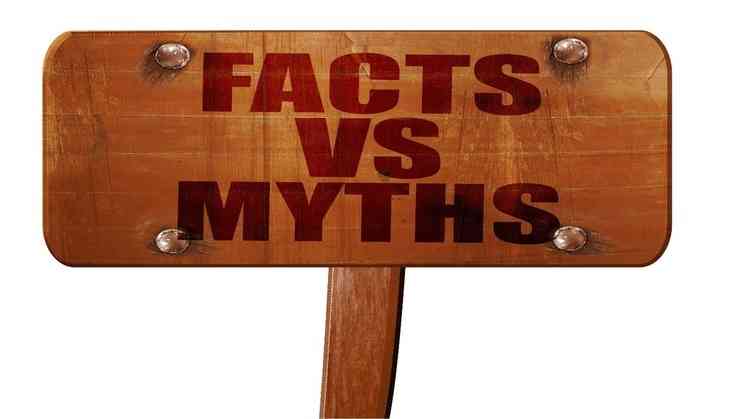 We all have grown up with hundreds of myths like hanging socks under the Christmas tree to get gifts, putting your broken teeth underneath the pillow so that the Tooth Fairy can replace it with a small payment, etc. These 'beliefs' are spread through words of mouth.
Similarly, in driving, where there are lots of misconceptions floating around like, "I am a good driver and accidents happen with bad drivers" or "that cow will never cross my way," car insurance too has myths attached to it.
Since car insurance is a necessity in India, where roads are notorious for their rate of accidents, it is imperative to bust myths. So, let's start!
Myth: Buying and renewing car insurance is a daunting process.
Reality: Buying and renewing a car insurance policy has never been so hassle-free. Now the process involves just filling in some basic details about your vehicle and your policy (in the case of renewal) and generate an instant premium quote. A couple of easy steps and your policy is in your hands!
As it was not enough, some insurers have also made it easy to renew the policy with a photo. All you need to do is click a picture of your current or expired insurance policy and upload it through the app. Key in basic details and get your policy renewed within a minute.
You can also renew your policy with a mobile application. Traditionally, when a motor insurance policy expires, a mandatory inspection by the insurer is carried out which can delay the process. However, now you don't need to wait for the insurer to inspect your vehicle as you can make a video of your car and upload it via the app as per the insurer's guidelines. Moreover, this feature is available on all platforms— desktop, tablets, and smartphones.
Myth: I will lose my No Claim Bonus (NCB) if I change my insurer.
Reality: Your NCB follows you wherever you go. For those who aren't aware of the term, NCB which stands for No Claim Bonus is the reward that an insurer gives to those policyholders who haven't made a single claim in the previous policy tenure. As the NCB is attached to a policyholder and not the vehicle, it can be transferred from one vehicle to another when you decide to buy a new vehicle or change your insurer. However, the make of the vehicle should be same. You can't transfer NCB earned on a motorcycle to a car.
Myth: Old cars do not need insurance.
Reality: Of course, the market value of your car might go down, and you might think that why should you pay more money on the comprehensive insurance policy. However, remember, the older your car gets, the higher the chances of its meeting with accidents. Also, irrespective of the fact that whether your car is old or not, if you are still taking it out from the garage, you must have a third-party car insurance, which is mandatory by law.
Myth: I am a careful driver, why should I buy a car insurance?
Reality: You are a good driver, but can you say the same for the others? Remember, sometimes accidents happen not because of your fault, but due to the fault of another person behind the wheel.
Causes of Accidents, 2015

Reason

Killed

Injured

Fault of Driver of other vehicles

6,961

19,686

Defect in Road Condition

2,733

6,122

Weather Condition

2,552

4,792

Poor light

2,095

4,809

Stray animals

579

2,044
Source: Pibphoto.nic.in
(The above numbers include all the vehicles)
So, irrespective of your driving skills, you should go with a comprehensive car insurance. Also, if you are confident that you drive well, you can increase the deductible limit and enjoy cheaper premium rates. The deductible is the amount that a policyholder needs to pay before the insurance policy kicks in. If you think you drive well, you can increase your deductible limit and enjoy affordable premium rates.
Myth: Car insurance premium is higher in the case of new cars.
Reality: Contrary to the popular belief, the age of the car is not the sole factor in deciding the premium of a car insurance policy. There are various other factors which play an imperative role, like make and model of the car, geographical area, etc. Also, if a company has stopped manufacturing a particular car brand, it will be daunting for a car mechanic to get its parts. Hence, the repair process will be costly, and the insurer may charge exorbitant premium rates.
Myth: Acts of God or natural disasters are not covered.
Reality: A comprehensive car insurance policy offers complete coverage against flood, earthquake, fire, etc. In earthquake-prone areas, however, one may have to shell out extra premiums to get coverage against Acts of God.
Myth: In the case of an accident, I will have to settle claims from my pocket and then approach the insurer.
Reality: As long as you are visiting a networked garage, i.e., the one with whom your insurer has tied up, the repair costs will be borne by the insurer itself. In case you are unable to visit the networked garage, you can make a payment first and then file a claim later.
Myth: In the case of loss or damage, the car insurer is liable to cover the entire losses.
Reality: Does it make sense if you are asked to pay for an already half-eaten pizza? Similarly, you can't expect the car insurer to settle the entire claim for a car that has been running for quite some time. Before making a settlement, the insurer will deduct the amount of depreciation. You can, however, go for zero depreciation add-on to negate the impact of depreciation. This rider offers complete coverage without deducting depreciation. It means, if your car is damaged, following an accident, the insurer will cover the entire losses. However, zero depreciation is given for a car which are up to 3-year-old and not given for cars which are more than 3 years old.
Myth: The insurer will not settle a claim if I was not driving the car at the time of the accident.
Reality: As long as the other person driving the car has a valid license and not under the influence of intoxicants, the car insurer will settle your claim in case of any accident. However, the insurer will not pay the claim even if the policyholder was driving the car at the time of the accident, but without a valid license or under the influence of drugs/alcohol.
Myth: A car insurer is liable to pay damages, irrespective of its use.
Reality: You can use your vehicle only for the purpose for which it has been registered. If you will use your private vehicle for commercial purposes, the insurer is not liable to settle the claim in case your vehicle meets with an accident.
Myth: A white colour car attracts a lesser premium
Reality: No, the colour of your car doesn't define your premium rates. In fact, the insurer will not even ask you the colour of your vehicle at the time of policy issuance. There are various factors like IDV, model of the vehicle, body type, accessories fitted in the car, type of engine (petrol, diesel or CNG) etc. which decide premium rates.
Conclusion
Hope now your mind has been liberated and most of your car insurance myths have been cleared, so go ahead, and insure your vehicle before bringing it on roads.