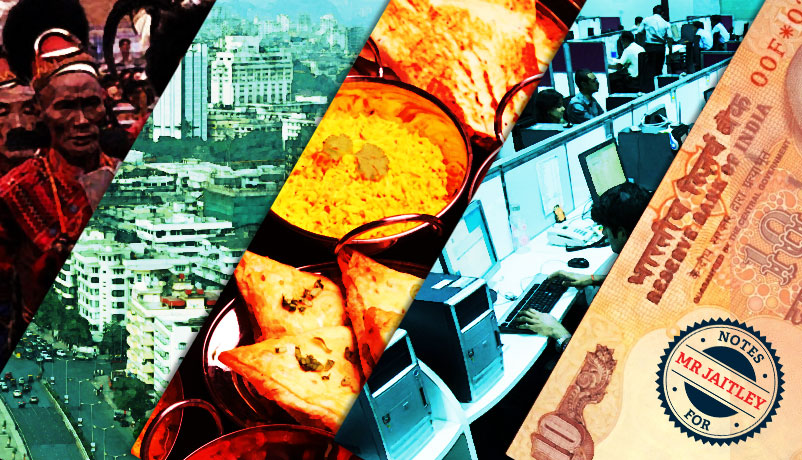 At least 31.2% of India's rural population cannot afford even the bare necessities. That's what last year's socio-economic caste census told us. And Arun Jaitley's social sector budgetary allocation will determine whether they get access to decent food, housing and jobs.
In last year's budget, Jaitley nearly halved social sector expenditure. He explained it away as part of a coordinated push towards "cooperative federalism". which means giving the states more say in deciding their budget priorities. But several experts have pointed out that the Rs 4,39,192.25-crore slash was effected to rein in fiscal deficit.
Read- #NotesForMrJaitley 10: scale down your expectations from disinvestment
A year on, it's clear that Jaitley's brutal budget cut has only weakened the safety nets for the poor, threatening their dignity, even survival. The states, barring a few, have not bought into the "cooperative federalism" rhetoric.
So, here are the social sector areas Jaitley should focus on this year to help mitigate the misery of a large section of our population.
Consider this:
According to UNICEF, as many as 43% of India's children under five are underweight while 48% are stunted due to chronic undernutrition.
India accounts for more than 3 out of every 10 stunted children in the world and as many as 20% of children under five suffer from wasting due to acute undernutrition, substantially more in rural areas than in urban centres.
Nearly 70% of Indian children aged 6-59 months are anaemic.
Only a third of Indian children receive any service from an Anganwadi centre and less than 25% get supplementary foods through the ICDS.
Yet, in perhaps the harshest of social sector budget cuts last year, Jaitley reduced the allocation to the Women and Child Development ministry by over half - from Rs 21,193 crore to Rs 10,382 crore.
Several protests later, a supplementary grant to make up for the cut was approved. Accordingly, the initial allocation of Rs 8,335.77 crore for the ICDS was raised to Rs 15,485.77 crore.
[twittable]Putting budgetary restrictions on MNREGA amounts to denying people the right to work: @nikhilmkss[/twittable]
Food rights activists, however, fear the supplementary grants were a only a "one-time" allocation to the states that were unprepared to take the "burden" of funding nutrition programmes.
Moreover, in the six months before the supplementary grants were allocated, several states suffered massively. "When I visited Uttar Pradesh in December, the Anganwadis were all shut. No midday meals had been cooked for months in any of the schools," recalls Dipa Sinha of the Right to Food campaign.
"To correct the structural causes of malnutrition and stunting requires the convergence of several factors: food, employment, health, nutrition, water and sanitation, not just for the child but for the parents too," feels Sachin Jain, a Right to Food campaigner and journalist based in Bhopal.
The campaign has voiced the following demands to improve nutrition. All of these though require significant budgetary support.
Diversify the PDS: With the prices of pulses and millets soaring, the poor are unable to afford them. Food rights activists demand that pulses, millets, eggs and oils be brought under the ambit of the PDS to ensure a more diversified nutrition intake.
Implement universal maternity entitlements: Under the National Food Security Act, pregnant women and lactating mothers are entitled to Rs 6,000 per pregnancy and a maternity leave of at least six months. But this has not kicked off outside of the 52 pilot districts where it was implemented last year.
The unorganised sector, barring construction, is particularly vulnerable, excluded as it's from all kinds of social security nets, including this one. So, this year, Jaitley is being asked to extend the scheme to the unorganised workers across the country.
Universalise the ICDS: The number of Anganwadi centres must be substantially increased in urban slums, and tribal and hilly areas. The centres must also be made roomier and kept open for longer hours. This will ensure they are not just food distribution centers, but also function as daycare centres for the children of poor working parents where they stay safely, and are taught and well-fed.
The failure to revise cost norms for supplementary nutrition despite food inflation has affected the quality of food provided at Anganwadis. The demand for Jaitley is to revise the cost norms in keeping with the current market prices of essential items.
Improve the Midday Meal Scheme: Again, sufficient funds must be allocated to the scheme to offset food inflation. Moreover, this budget should allow for nutritious items such as eggs, fruits to be included in the meals.
"Housing for all by 2022" was Narendra Modi's election promise. This means not just building rural houses. It also means providing for urban housing. This is a pressing need. In fact, the prime minister himself has acknowledged that 40% of the global urban population lives in informal settlements or slums, facing a range of health and nutritional challenges.
Also read- #RailwayBudget2016: What more could have been achieved
Jaitley, in his last budget speech, had said his government would build two crore urban houses and four crore rural ones by 2020, each at a cost of Rs 70,000-75,000.
The plan was running 44% short of its target for the 2015-16 fiscal until a months ago. Fund disbursal continues to be an issue with the government only releasing a fraction of the allocated 14,000 crore for rural housing.
According to the planning expert KT Ravindran, the country urgently needs "a scalable, low-cost housing solution". "We need to get innovative with the materials and the design. The prefabricated material technology has advanced immensely and has solutions for quality, scalable, weather-friendly, low-cost housing."
Here's a housing support wishlist for Jaitley:
Build better quality houses: The target of building a house for Rs 75,000 is proving to be increasingly difficult. To ensure a better quality of construction, the budget needs to factor in the increased prices of steel, cement and other building material, not to mention the soaring real estate prices, especially in urban India. Ravindran's idea should be considered and experts invited to provide innovate designs.
Allocate funds for better monitoring: According to grassroots NGOs such as Bundelkhand's Vidya Dham Samiti, the Rs 70,000 given for constructing a house is provided in two instalments.
The process demands that the family erect the walls of the house using the first instalment, then have the panchayat certify that the money was properly spent before the second instalment is processed. This can often take up to six months, leading to 80% of half-built IAY houses being abandoned. When the money eventually comes, it goes into paying back the debts.
[twittable]NDA's promise: Housing for all by 2022. Reality: less than 50% of the target for 2015-16 met so far[/twittable]
Also, widespread corruption means that a big share of the Indira Awas Yojana money is pocketed by unscrupulous sarpanchs. The Vidya Dham Samiti alleges that the sarpanch of Attarra in Bundelkhand collected as much as Rs 33 lakh in IAY bribes.
Jaitley should allocate money for better monitoring of housing schemes to plug corruption and ensure timely disbursal of the funds.
The NDA government has made an about-turn of sorts on the MGNREGA. Compared to a year ago when Modi had called the scheme a monument to failure, the government now boasts that the 100 day job guarantee scheme has generated 45.82 crore workdays in the July-September quarter of 2015, the highest in its five-year history.
Read more- Budget 2016: Major highlights from Economic Survey 2016
The government credits this to its "close monitoring" of the scheme, timely disbursal of funds, revamping of MIS system, digitisation of disbursements, and a check on corruption.
Still, Jaitley needs to fix the following:
Make the scheme demand-driven as it was meant to be: MGNREGA guarantees a minimum of 100 days' employment for every person living below the below poverty line round the year.
"The scheme should fund the demand for rural employment, no matter what it is. Putting a restrictive budget on it and giving work accordingly amounts to denying a fundamental right to work," says the social activist Nikhil Dey who, along with Aruna Roy, was instrumental in pushing the UPA regime to enact the law.
In 2010-11, the scheme was allocated Rs 40,000 crore. In comparison, it got only Rs 34,699 crore last year.
NREGA was allocated Rs 40,000 cr in '10-11. Last year it got only Rs 34,699 cr. Course-correction now?
Last year, Dey and Roy's Mazdoor Kisan Shakti Sangathan had filed an RTI application seeking details of the 2015 budget for MGNREGA and the expenditure done. As per the reply they got in December from the rural development ministry, the states and union territories had already spent Rs 31,830 crore, or 95% of the allocation including their own share of Rs 1,771 crore, on the scheme.
"The five-year quarterly high is unsustainable. If they have admitted to already spending 95% of the MGNREGA budget, where is the money to spend until March?" Dey questions.
"The real drought will strike now onward when the farmers see a failed rabi crop. Where will they all turn to for a livelihood if not the MGNREGA? The worst is yet to come and there is no money left," adds Roy.
Increase funds to pay the labourers on time: "Once a labourer's name is on the master roll, payment should be made in within days. But until six months ago, two-thirds of the payments would be delayed. We have been monitoring this on a daily and hourly basis, and now it's about half," says Amardeep Sinha, additional secretary, rural development.
Still, long delays in paying the labourers remains a major problem. But it can be fixed by providing a higher and smoother fund flow.
Nearly 53% of all Indian children - that's 220 million souls - face sexual abuse. And the number is only growing.
Raising this issue in a recent letter to the finance minister, Rajya Sabha MP Rajeev Chandrasekhar asked him for budgetary support to help create a safer environment for our children.
Also read- #NotesForMrJaitley 8: India's students deserve a little more generosity
The letter, cosigned by members of the National Coalition to Protect Our Children, asks Jaitley to secure extra funds for strengthening the National Commission for Protection of Child Rights, the judiciary, police and other institutions responsible for ensuring a swift and effective response to child sexual abuse.
The District Child Protection Unit is the first point of contact for children who have faced sexual abuse. And Chandrasekhar says each of India's 676 districts will require Rs 2 lakh a month to provide the proposed counselling services at these units.
According to the NCPOC, the cost of the infrastructure required to strengthen DCPUs alone is estimated at Rs 162 crore. And Rs 35 crore is needed - at the rate of Rs 1 crore per state or union territory - to better monitor sexual abuse and generate awareness about it.
[twittable]Hike integrated child protection budget to Rs 1,500 cr to redress child sexual abuse: @rajeev_mp[/twittable]
The overall current budget for integrated child protection is Rs 500 crore or so. Chandrasekhar says this amount should be increased to Rs 1,500 crore for an "effective redressal of the problem of child sexual abuse".
In his letter to Jaitley, he has requested that the unutilised money from the Nirbhaya Fund be channeled for protecting children from sexual abuse, as this could "also ensure a more efficient and effective use of resources".
All this isn't asking a lot of Jaitley. It's only fair that the national budget doesn't overlook the needs, and indeed aspirations, of the country's most vulnerable sections. The question is, will Jaitley deliver?
Edited by Mehraj D. Lone
More in Catch:
2016: Can 94 % of India be ignored? Watch Catch's Round-Table on the Economy
#RohithVemula family, friends call Smriti Irani out on her 'lies'