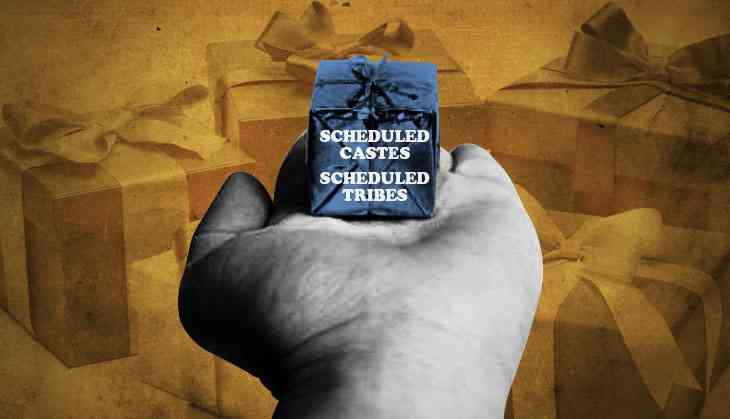 (Arya Sharma / Catch News)
It would be really interesting if one studies the news related to the Budget presented in Lok Sabha on 1 February for the financial year 2018-19. On 2 February, all newspapers published from Delhi were flooded with news on the Budget.
If in a newspaper, except the sports pages, all 26 pages are filled with more than 110 headings and sub-headings on budget, none of them utter even a single word on Dalits and Adivasis. However, the alphabet of parliamentary politics starts with Dalits and Adivasis and ends with the person sitting at the last ladder of the social stratification.
Particularly, on the basis of its tally in reserved seats, the ruling Bharatiya Janata Party (BJP) claims that it has, in comparison to the other parliamentary parties, a wider influence among Scheduled Castes (SC) and Scheduled Tribes (ST). But even in the highlights of the Finance Minister's Budget speech publicised by the government's Press Information Bureau (PIB) the mention of SCs and STs is missing.
Despite this, Ram Vilas Paswan, a Dalit face and a senior minister in the Narendra Modi Cabinet, has expressed a jumla without any substance: altogether this Budget is favourable to the poor, particularly the SCs and Sts.
Before we look for the announcements related to SCs and STs in the Budget, a heading that mentions opening of Eklavya Residential Schools in every tribal blocks of the country by 2022 catches our attention. Interestingly, not more than one and two newspapers have carried this kind of heading.
In Hindu mythology, the myth of Eklavya comes in the context of depriving Dalits of education. Though the children in tribal areas are Adivasis, there is hardly any teacher available in their language for them. Moreover, the teachers deputed in these areas are barely familiar with their culture.
Thus it's quite obvious that this step is being taken only to uplift Hindutva, not the tribal culture. These days, in order to protect their people, forests and land from outside invasion, Adivasis are passing through the toughest phase of their life.
Before we strive to find out those provisions in the voluminous Budget that could augment social and economic power of Dalits and Adivasis, a fact in the Economic Survey haunt us. According to the Survey, under Mahatma Gandhi National Rural Employment Guranatee Act (MNREGA), approximately 4.6 crore families were provided employment during 2017-18. Of them, 22 per cent belonged to Scheduled Castes and 17 per cent from Scheduled Tribes.
In his Budget speech, Finance Minister Arun Jaitley presented MNREGA as a social insurance that's the need of the hour. But the same MNREGA, which hogged the limelight in the last couple of years, is nowhere in news on this Budget of 2018-19.
The majority of SC and ST population works in the unorganised sector. The question of owning an industry or trade by them or their participation in programmes like 'Make in India' never ever becomes part of the budgetary schemes.
In fact, a sense of generosity looms large when their affairs come for discussion in the Budget. The plight of self-employment among SCs and STs can be judged with this portion of Finance Minister's speech where he enumerates the figures of Mudra Yojana, started in 2015.
According to the minister, just Rs 10.38 crore has been given as Mudra loan. Of that, 76 per cent loan accounts belong to women. Actually whenever the government fails to show anything constructive for SCs and STs, it either starts singing the tune of women or hide under a phrase of Scheduled Castes, Scheduled Tribes and Backward Classes.
Of the total given Mudra loan of Rs 10 crore 38 lakh to encourage medium & small scale enterprises and employment generation, more than 50 per cent loan accounts belong to Scheduled Castes, Scheduled Tribes and Backward Classes.
If we look for any concrete budgetary proposal for the SCs and STs, who are considered most socially and economically deprived section of the society, it's the proposed allocation for social welfare. In the Budget of 2018-19, Union Finance and Corporate Affairs Minister Arun Jaitley has proposed an allocation Rs 56,619 crore for 279 schemes related to the SCs and Rs 39,135 crore for 305 schemes related to the STs.
Actually, the FM made an interesting background before announcing such allocation. Instead of mentioning the increase in this year's allocation for this head, he talked about the allocation of 2016-17. He told that in comparison to the then allocation of Rs 34,334 crore for the SCs it had been raised to Rs 52,719 crore in the previoous year.
Similarly, in 2017-18 Rs 32,508 crore was allocated for the STs compared with last-to-last year's allocation of Rs 21,811 crore. Thus, merely an increase of Rs 3,900 crore for the SCs and Rs 6,627 crore for the STs has been proposed in the budget of 2018-19.
But one can find out from the statistics that in comparison with last year's spending on SCs out of the total budgetary expenditure, it has been actually reduced this year. Compared with 2.44 per cent of total expenditure, it has been proposed 2.31 per cent for the SCs.
Likewise, for the STs, compared with 1.49 per cent of last year's expenditure, it has been made to 1.60 per cent for the fiscal 2018-19. It is being said compared with the way the ruling BJP has influenced Dalit politics with its own cultural tools, it is hardly taking political rhetoric of economic and social upliftment of Dalits seriously in this election year.
Edited by Joyjeet Das