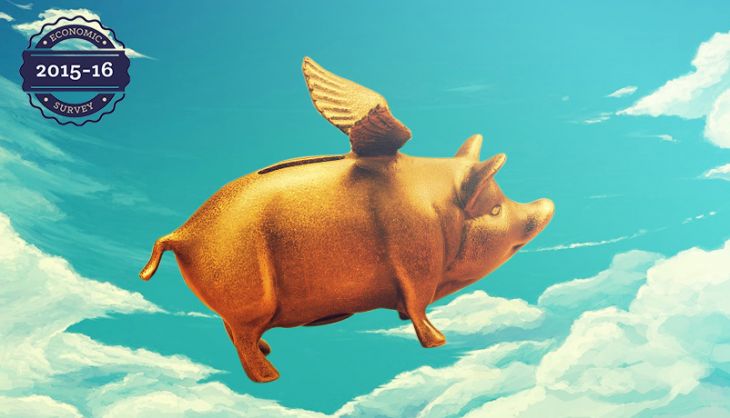 The premise
Democratic institutions will help growth: says eco survey
This will help India square up with China: according to survey
Is that so
Not at all, says economists
Dictatorship has often led to faster growth
What next?
Can India depend on democracy alone, then?
What are the things the govt needs to do?
The Economic Survey of India for 2015-16 has estimated India's long-term growth potential at 8-10%.
This rate has eluded Indian finance ministers for over two decades. Only P Chidambram came close to it in 2006-07, when India grew at 9.6%.
Since then, however, the world economy has tumbled and India, too, has entered a phase of uncertain low rate of growth that today stands at 7%-7.5% (which again is controversial).
Read: This year's eco survey is a catalogue of crises
According to the Economic Survey, prepared by Chief Economic Advisor Arvind Subramanian, it is possible for India to grow at double-digit percentage rates on the back of its democratic institutions, which should help India to accelerate growth and inch closer to China, which is slowing down in the absence of democracy.
Is Democracy really a virtue for Economic growth?
To the economists that Catch spoke with, there is no co-relation between a country's economic growth and democracy.

* "Countries without democracy have grown, proving that economic growth is not necessarily dependent on a particular political system or institutional framework," said Rajiv Kumar, senior fellow at Centre for Policy Research.

"You take the case of China or Taiwan, the per capita income in those countries have grown at a very fast pace, irrespective of their political systems."

* Surjit Bhalla, managing director of Oxus Research and Investments, too, believes the argument of democracy providing an impetus to economy is "a little farfetched".

"There is enough empirical evidence available on this subject. You can take dictatorships of Singapore, China or Indonesia and compare that with the democracies of Africa or Latin America. The dictatorships have delivered higher growth than the democracies," Bhalla said.

Implement tax reforms such as Goods and Services Tax, pending for years: Surjit Bhalla

* Abhijeet Sen, a member of the erstwhile Planning Commission, too feels it would be difficult to extrapolate a high growth trajectory on the basis of democracy.

* R Nagaraj, A professor of economics at the Indira Gandhi Institute of Development Research gives a nuanced answer on democracy and economic growth: "The relationship between democracy and economic growth is ambiguous. While strong and undemocratic states may achieve high growth rates for while, such regimes can also be very brittle; whereas democracy helps build broad consensus on national development agenda, can withstand dissent and criticism in a far more responsive manner, and hence can yield enduring and equitable economic growth."

However, he too, does not agree with the 'democracy = higher economic growth' argument of the Economic Survey.
What then is the way to achieve a sustainable double-digit growth?
* "The last time when India came close to achieving 10% growth was when India had a capital formation rate of 35% and domestic savings of 34%. This has come down in the recent times, and this is what has created problems for the Indian economy," Sen said
This can be improved only by creating an environment where companies are ready to invest more, he added.
Also read- #NotesforMrJaitley 11: don't let down India's poor again
According to Sen, a lot of liquidity is tied up in non-performing assets (NPA) and to clear that log, the government may have to think about allowing some companies to shut down.
Till September 2015, as much as Rs 3.15 lakh crore was recognised as NPAs in the Indian banking sector. However, if one takes into account restructured loans as well, the figure may cross Rs 10 lakh crore.
"Allow some companies and projects to be shelved to release the liquidity stuck in them," Sen says.
* For Kumar, "To achieve 8-10% growth, India will have to improve its export competitiveness. No country in the world has been able to achieve that kind of growth without becoming a major export hub in the world."
Under the NDA government, Indian exports have seen an unprecedented low, with a contraction that has continued for 14 months on the trot. During the 2008 global financial crisis, Indian exports resurrected after a fall of nine months.
Even though the government has launched programmes like Make in India to attract investment in the Indian manufacturing sector, it has failed to woo investors. New investment proposals declined 23% between January and December 2015, according to the government's own data.
Lot of liquidity is tied up in NPAs; govt should think of allowing some cos to shut down: Abhijeet Sen
* The government needs to implement the tax reforms such as Goods and Services Tax (GST) pending for years, said Bhalla. But, given the current political environment, it looks highly unlikely that the government would be able to do that.
Unless, the government brings in all these changes within the democratic structure of the country, it is highly unlikely that the country would be able to cross over from a 7%-plus economy at present to 10%-economy.
Edited by Joyjeet Das
More in Catch:
FULL TEXT: Chaman Lal's #AwardWapsi letter to Smriti's ministry
ST status to six communities in Assam: BJP missing a game-clinching trick
Para commando deaths can be avoided. A joint special force is crucial
Before corporate media backpedals: Bernie Sanders & media objectivity in 2015