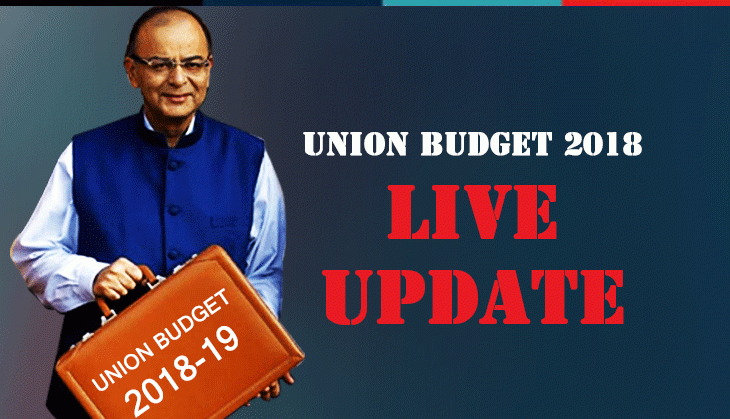 - In a shocking statement that has come recently, the prices of petrol and diesel will not get cheaper. The amount of excise duty that got reduced on petrol and diesel got compensated with the amount of cess tax that will be implied on it.
-Its a balanced budget which is for every section of society, especially the focus on farmers and health services of the poor. Economy will also get a boost.I congratulate PM Modi and FM Jaitley: Piyush Goyal,Railway Minister
-Its a grand budget, lot of announcements for the poor, farmers and tribals. This budget will also cement India as a global economic power: Home Minister, Rajnath Singh
-Desh ki neev mazboot karne wala budget hai, farmer friendly, common man friendly, business friendly aur development friendly hai: PM Modi
-Corporate Tax rate got reduced to 25% for companies that have a turnover of Rs 250 crore.
-Sensex at 35,526.23, went down by 438.79 points.
-Standard deduction of Rs 40,000 for salaried employees in lieu of transport and medical expenses
-Mobiles and Televisions to get expensive. The custom duty on mobile phones increased to 20% from 15%
- Exemption will be given to the senior citizens in interest income on bank deposits raised to Rs 50,000
- Govt has made many positive changes in the personal income tax rates applicable to individuals in the last three years therefore no changes in the tax slabs will be made.
-Tax payer base has risen from 6.47 crore in 2014-15 to 8.27 crore in 2016-17.
-Additional 90,000 crore has been collected by income tax.
-Projected fiscal deficit for 2018-19 is 3.3% of GDP
- 21.57 lakh crore revised expenditure estimated
-Income of the President to be revised to Rs 5 lakh per month & income of the Vice-president to be revised to Rs 4 lakh per month
-Revision of income of MPs will be done after every 5 years will be done: Arun Jaitley
-Will take all steps to eliminate the use of Crypto-Currencies, will encourage Blockchain technology in payment systems: FM Jaitley
-Government will identify 372 specific business reform actions to improve ease of doing business. Also, evaluation of performance under this programme to be based on user feedback: FM Arun Jaitley
- The Airports Authority of India will now have 124 airports and will be expanded by 5 times. Aim of 1 billion trips a year.
-All railways stations with more than 25,000 footfall to have escalators. Not only this, every railways station and trains will have Wi-Fi and CCTVs progressively: Arun Jaitley
-The world's greatest government-funded universal healthcare programme, named as National Health Protection Scheme, got announced.
- Arun Jaitley said, "AMRUT program to focus on water supply to all households in 500 cities. Water supply contracts for 494 projects worth 19,428 core awarded."
- 10 prominent tourist destinations to develop as Iconic tourism destinations
-Announce allocation of Rs. 56,619 crore for SC welfare and Rs. 39,135 crore for ST welfare: FM Jaitley
-The maternity leave extended from 12 weeks to 26 weeks.
-Medical reimbursement of Rs 5 Lakh will be provided for 10 Crore poor families.
-Rs 1200 Crore for health wellness centres.
-Credit of Rs 10 Lakh Crore will be provided for farming.
- Finance Minister, Arun Jaitley, said, "Govt proposes to increase the target of providing free LPG connections to 8 crore to poor women."
- The Finance Minister laid emphaises on higher incomes for Indian farmers and said that they want to help farmers to produce more and realise higher prices.
- Arun Jaitley talked about horticulture and said, "Cultivation of horticulture produces in a cluster-based manner create avenues for more produce."
-MSP to be increase by 1.5 times.
- Jaitley gives an importance on agriculture and said, "Our government has worked sincerely for various reforms without keeping the political angle in mind. My government is committed to the welfare of the fares. Agriculture is an enterprise and encouraging farmers to earn more."
-The speech of Arun Jaitley beginsand he says that Narendra Modi's government has reversed the tradition of corruption. He said, "There is a premium for honesty today."
-The cabinet has approved the budget and Jaitley starts the presentation of the budget of the Government of India for the year 2018.
-Lok Sabha begins, Speaker Sumitra Mahajan mourns death of Palghar MP Chintaman Vanaga.
-Jaitley gets ready to present the budget 2018 after attending the cabinet meeting.
-The Confederation of Indian Industry said, "Reduction of corporate tax could be the 'Brahmastra' this Budget. Anticipate a focussed address to agrarian distress in Budget 2018; expect a strong push to public expenditure in today's budget."
-The cabinet meeting for the presentation of the Union Budget 2018 has begun and Prime Minister Narendra Modi and Finance Minister, Arun Jaitley has arrived at the parliament. The meeting will commence at 11:00 am after which Jaitley will give an official statement about the Government's receipts and expenditure for the year 2018-19.
-This will be BJP's first budget post the GST and the last budget before the polls. Arun Jaitley will give the budget speech in the Hindi language while the corporate part of the budget will be presented in English language.
-With ANI imputs