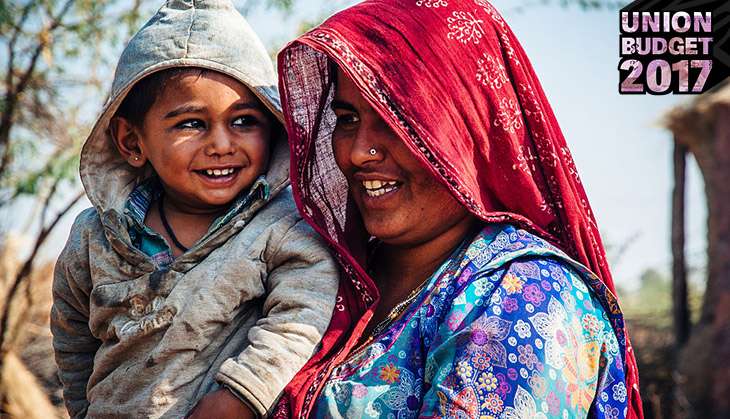 Budget 2017 looks promising for women. All budgets presented by the Narendra Modi regime have been attentive to the welfare of women and children, and this year's is no exception.
In this budget, the allocation for women and child welfare under various ministries has been hiked from Rs 1.56 lakh crore to Rs 1.84 lakh crore. "For welfare of women and children under various schemes across ministries, I have stepped up allocation from Rs 1,56,528 crore of 2016-17 to Rs 1,84,633 crore in 2017-18," Finance Minister Arun Jaitley said in his budget speech to the parliament.
Also Read: Budget 2017 is focused on where the votes are. Here's how
Pointing out that "sabka saath, sabka vikas" starts with women, the minister announced the setting up of Mahila Shakti Kendra, or Women Empowerment Centre, at each of the 14 lakh Anganwadi centres in the country, at a cost of Rs 500 crore.
"This will provide a one-stop conversion support system for empowering rural women with opportunities for employment, skill development, digital literacy, health and nutrition," Jaitley said.
The budget also provides for enhancing financial assistance to pregnant and lactating women by increasing manifold the allocation for the Indira Gandhi Matritva Sahyog Yojana, the maternity benefit programme for such women, to Rs 21,000 crore in 2017-18 from just Rs 400 crore in 2016-17.
This follows Modi's announcement on 31 December that his government would transfer Rs 6,000 crore into the bank accounts of pregnant women across 650 districts of India.
The supplementary nutrition programme for children under six has also received a boost with an allocation of Rs 15,245 crore.
While all these measures are laudable, the budget has raised some concerns as well.
Women from middle and low income groups were adversely affected by demonitisation, with many losing their entire savings in cash. Though the generous allocations for many women's welfare schemes could be a way of compensating the losses from note ban, it may not be nearly enough.
Also, no allocation has been made specifically for women's safety in this budget, neither for victims of sexual and physical assault. Given the many recent incidents of assault on women, not least in Bangalore, specifically addressing the issue of women's safety should have been considered.
Overall, though, Budget 2017 is a positive for women. But how effectively will the funds allocated for women's development be used at the grassroots level remains to be seen.
Also Read: Budget 2017: For defence, marginal hike in funds & a few minor schemes