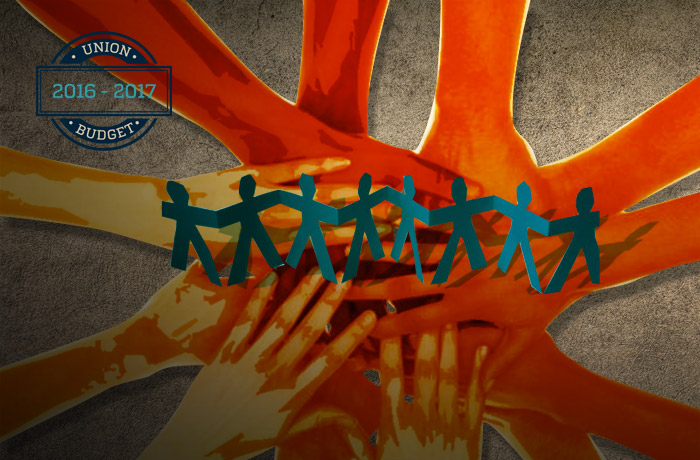 The focus of this year's budget on the farm and social sector is evident.
Before opening the part of his speech on social-sector allocations, Jaitley quoted Vivekananda: "No amount of politics would be of any avail until the masses in India are once more well educated, well fed, and well cared for."
Speaking about the social sector as a major pillar of his budget, at the outset Jaitley announced three major schemes to address weaker sections: The Pradhan Matnri Fasal Bima Yojana (crop insurance), which would help double the income of farmers by 2020, a health insurance scheme which protects a third of BPL families and a cooking gas subsidy which would protect women from ill effects of chula cooking.
Read- Explained: Arun Jaitley's '9 pillars' of #Budget2016
Announcing an allocation of Rs 87,765 cr for rural development, Jaitley expressed his government's desire to provide socio-economic security to provide for every poor and vulnerable Indian.
Catch analyses some social sector allocations:
01
MGNREGS -- Boosting rural employment
The Ministry of Rural Development has been allocated Rs 87,765 crore for 2016-17, up from the revised estimate of Rs 79,279 crore for the last year.
A year ago, Prime Minister Narendra Modi called the Mahatma Gandhi National Rural Employment Guarantee Scheme (MGNREGS) a monumental failure. Today, his government has set aside Rs 38,500 crore for the scheme (up from Rs 34,699 crore). Though Jaitley highlighted this in his speech, the hike was only 10.9%.
Also read- Union Budget 2016: No change in income tax slab, fiscal deficit target kept at 3.5 %
During the UPA regime, the 2010-11 Budget provided Rs 40,100 crore for MGNREGA, the highest for any single social welfare scheme until now.
Right to Work activists like Nikhil Dey and Aruna Roy and economists such as Jayati Ghosh have maintained that the scheme is constitutionally a demand-driven scheme. According to a Right to Information application RTI filed by Dey in November 2015, over 90 percent of the MGNREGS budget had been used by by November 2015. By that standard this year's budget is still a fig's leaf.
02
Rural Infrastructure - A focus on roads and connectivity
Pradhan Mantri Gramin Sadak Yojana was allocated Rs 19,000 crore. Taking states' contributions, that would amount to Rs 27,000 crore.
This will improve connectivity and help better reach of resources, Jaitley said. The previous budget allocated only Rs 14,291 crore for rural roads.
03
Cooking Gas - Saving women
The Finance Minister said cooking in an open fire, on a chulha is like burning 400 cigarettes in an hour. This budget had a special focus in mitigating such hazardous effects by pushing large LPG subsidies.
Already, 75 lakh people have given up their LPG subsidy.
This budget, Rs 1,000 crore provided for LPG connection to rural households. The scheme is to go on for two years and promises to cover five crore households below poverty line.
Eventually, the plan is to move towards ensuring universal coverage of cooking gas.
04
Education: Focus on higher education
After universalisation of primary education, the focus of the government is on the quality of education," Jaitley said.
Compared with this year's revised estimate of Rs 67,586 crore allocation, next year's budgeted allocation has been boosted to Rs 72,394 crore.
The National Education Mission has been allocated Rs 28,010 crore. Of this Sarva Siksha Abhiyan (SSA) has been allotted Rs 22,500 crore, the national programme for mid-day meals in school has been allotted Rs 9,700 crore and Integrated Child Development Scheme has got Rs 16,120 crore.
Allocation for SSA, which funds schools to be set up across the country, was reduced 22.14% in the previous Budget. When the Ministry of Human Resources Development asked for Rs 50,000 crore in 2015-16, it received Rs 22,000 crore. This year's has been no different.
Read more- #UnionBudget2016: Jaitley plans more medicines for poor, but roadblocks remain
The impact of the earlier budget: six lakh teaching vacancies remained unfilled. Only 63% of government schools fulfil the pupil-teacher ratio laid down by Right to Education (30:1 for primary, 35:1 upper primary).
According to the RTE Act, the prescribed norm had to be reached by March 2015. It didn't then and it hasn't even in 2016.
However, Jaitley declared many new welcome initiatives:
62 new Navoday Vidyalays to be opened in new areas
10 public and 10 private education institutions to get better enhanced in infrastructure to become
Rs 1,000 crore for financin improvement in inrastructure
Focus on enhancing digital literacy to cover 6 crore additional rural households
05
Swachh Bharat: A boost to sanitation
Rs 9,000 crore have been set aside for the Prime Minister's pet project, a massive increase from last year's Rs 3,625 crore. More villages are expected to be declared free of open defecation and more toilets will be built.
Nobody is still clear though on how the building of toilets will change social behavior or how much focus will be on building quality drains that decompose waste without polluting rivers and water bodies.
06
Panchayati raj institutions: Boost local governance