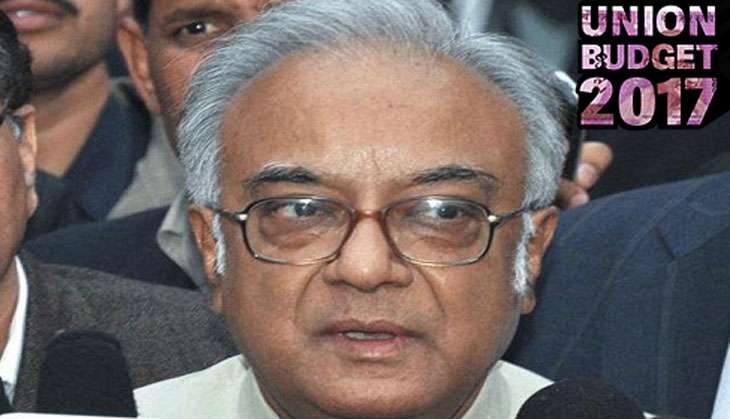 Former West Bengal finance minister Asim Dasgupta has termed the Union Budget presented by Finance Minister Arun Jaitley as "directionless", especially on the black money front.
He said that the finance minister has failed to reveal how much black money has been recovered after the government's demonitisation move.
"People are suffering because of this move. They want to know when their ordeal would end. The least the finance minister could have done was to tell the people how much money has been recovered," he said.
"Around 100 people have died because of the note ban. Yet the government said nothing about the measures it is taking to mitigate the people's suffering," he added.
Wasted opportunity
Dasgupta further said that the Budget failed to touch upon the economic survey's proposal of a Universal Basic Income.
A leader of the Communist Party of India (Marxist), Dasgupta was the finance minister of West Bengal from 1987 to 2011. He is said to be the longest serving finance minister in the country.
He said that the Budget has failed to strike a balance between planned and non-planned expenditure.
The biggest opportunity the government has missed, according to Dasgupta, is in providing a roadmap on boosting employment.
"Unemployment is rampant. Unfortunately, addressing it doesn't seem to be a priority for this government," he said.
According to Dasgupta there was a need for an expansionary fiscal policy at this juncture, but Budget 2017 is rooted in a more conservative policy framework.
Dasgupta explained that" After two successive years of drought coupled with demonetisation, there was a need to provide a healing touch to farmers. Yet the government hasn't initiated any debt relief for the farmers. The Centre has not yet decided upon what measures to be taken to address the impact of the demonetisation disaster."
The former finance minister of West Bengal further said that there are several aspects that the finance minister left unclear.
"For instance, although the Budget mentioned the new metro policy as well as setting up of a foreign investment promotion board, but how this will materialise is not clear," he said.