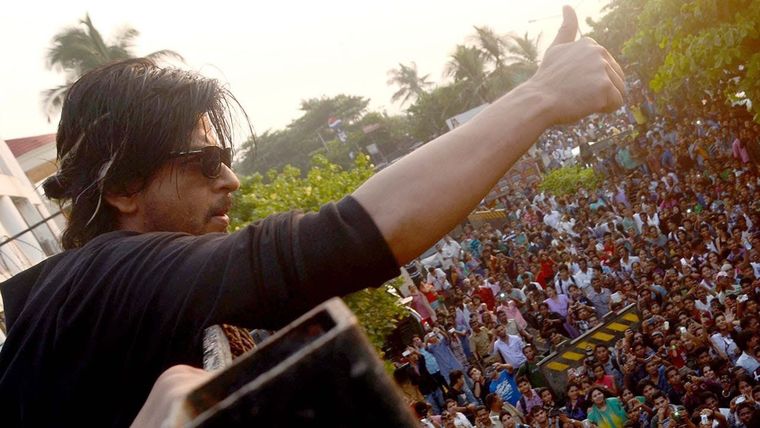 Shah Rukh Khan as obsessed fan, Gaurav, in YRF's Fan has already generated a lot of attention. While initially it was thought that Fan is about Khan and a real fan of his, it is actually a fictional story.
As stated by YRF, Fan is a thriller about a clash of egos between a Fan and a Superstar. Even though the easiest thing for Maneesh Sharma was to make Shah Rukh Khan play himself in the film, he felt that the script demanded a character like Aryan Khanna.
Also Read: Theatrical trailer of Shah Rukh Khan's Fan to be out on 29 February
"It was just to maintain the sanctity of the script that a character like Aryan Khanna made sense. If Gaurav would have been a Shah Rukh Khan fan, then it would not be much of a fiction. Of course Aryan's journey is a lot like Shah Rukh's in real life, but he is not Shah Rukh Khan," Sharma explains.
Shah Rukh Khan also feels that he won't be too comfortable playing himself on screen as it would require an honest portrayal of real incidents.
"If you put me in the film, you will have to put real life instances. Aryan Khanna is the personal journey of a superstar; it is a very internal journey. It is what I would be when I am not surrounded by people. We took the trappings of superstardom of one actor, that is me, but the character is different."
Also Read: Fan Anthem: Shah Rukh Khan, quirky lyrics & catchy tune grab attention
Khan also revealed that Aryan Khanna's character is little different from how he is in real life except for the fact that both belong to Delhi.
"The character of Aryan Khanna is a little different from how I am in real life, so it is very important to play that character rather than be myself. Of course we have used my house to shoot, but that is because the journey of Aryan is similar to mine in real life. Even Aryan is guy from Delhi who made it big in the industry."
Fan releases on 15 April, 2016.