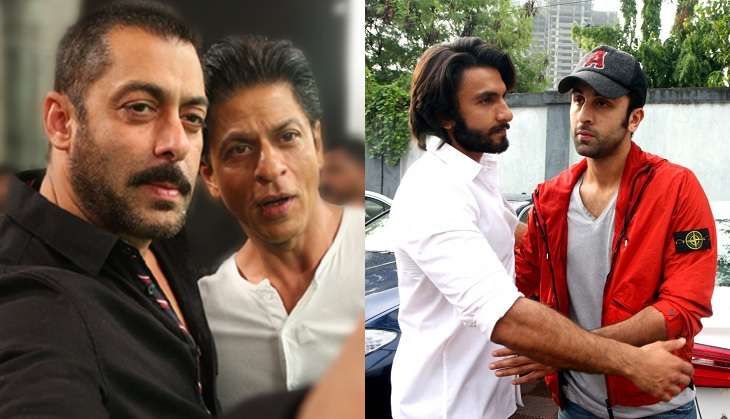 Salman Khan, Shah Rukh Khan and Aamir Khan have dominated the industry for around three decades now and still going strong with Tubelight, Dangal and Raees set to release soon. After their debut, none of the younger actors - except Hrithik Roshan - have managed to evoke mass hysteria amongst the audience.
Since the Khans have crossed 50, there has been plenty of buzz about who will now shoulder Bollywood's legacy. At the Jagran Film Festival, Karan Johar gave explained why it will be difficult for the younger actors to be the 'Next Superstar'. He said,
"Shah Rukh Khan, Salman Khan and Aamir Khan had a decade to build their equity. You are made a big star by the number of people who have watched your films across the world. The number of people who have watched a film starring Salman Khan, Shah Rukh Khan, Aamir Khan and Akshay Kumar...
Also Read: Karan Johar: Not Salman, Aamir or SRK, today's superstar is the national holiday!
I don't think anyone from the younger lot can attain that. It is going to be very tough for a Ranveer Singh and Ranbir Kapoor to build that audience base which is exceptionally loyal, faithful. They are talented but building a following will be very difficult."
Asked why it will be difficult, the director who is gearing up for the release of Ae Dil Hai Mushkil said,
"There are obstacles for the younger kids, rather they are not young now as most of them are in the early 30s, to build their equity. Even if you see now, the big holidays of 2017 or 2018 are blocked by the big superstars of our country. I will tell you why Salman Khan or a Shah Rukh Khan is so popular amongst the younger generation even today.
Also Read: Mirzya's Harshvardhan Kapoor has a thought-provoking observation about Shah Rukh Khan, Salman Khan & Aamir Khan
There are so many people who were young in the '80s loved who Salman Khan or Shah Rukh Khan in that era. They have now produced children and the kids automatically starts loving them because of the parents. If you really academically analyse, it is a number game."
Do you agree?