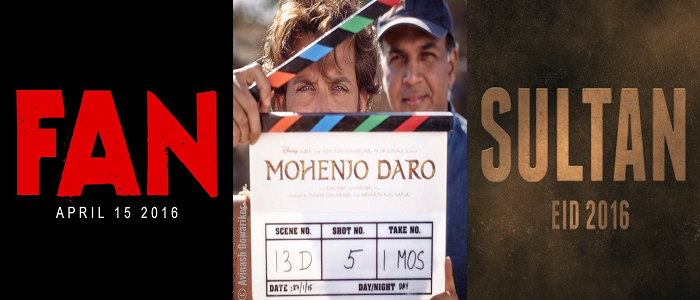 Whether it be Bollywood flicks sans star power or sleekly produced Hollywood movies, the message from audiences this year seems to be loud and clear - they want more bang for their buck. Sample this. Films like Dum Laga Ke Haisha, NH 10, Piku and Tanu Weds Manu Returns turned out to be box office hits, and yet they don't really ride on star power. Hollywood movies like Fast and Furious 7, Avengers: Age of Ultron and Jurassic World did fantastic business and even gave Bollywood films a run for their monies.
Competition from Hollywood
With audiences increasingly exposed to quality Hollywood flicks, Bollywood is clearly feeling the pressure to compete with Hollywood in terms of scale and presentation. Which explains why production houses in India have now started hiring foreign technicians to give desi flicks an international and competitive makeover. Here's a lowdown of some of the desi flicks where foreign technicians are helping out: Upcoming fare
Glenn Boswell in Mohenjo Daro
This is probably one of the biggest collaborations ever as action director Glenn Boswell, best known for The Matrix, Titanic and The Hobbit, will choreograph action featuring Hrithik Roshan in Mohenjo Daro. All eyes will be on how stylish and different some of the most difficult action sequences would be in the Ashutosh Gowariker directorial based on a love story set during the Indus Valley civilisation.
Larnell Stovall in Sultan
Known for his visually stunning action in The Hunger Games, Larnell Stovall is all set to train Salman Khan in wrestling as well as choreograph the fight sequences for Yash Raj Films' Sultan. The story of the film revolves around the life of Sultan Ali Khan, a four-time state wrestling champion from Haryana.
Greg Cannom in Fan
Bollywood is not just concentrating on action, but also on the look of actors. Greg Cannom, best known for The Curious Case of Benjamin Button, is working with Shah Rukh Khan in Fan. The make-up artist is working to make Shah Rukh Khan look like a teenager in the film and present him like never before.
Greg Powell in Prem Ratan Dhan Payo
The man behind the action sequences of Harry Potter series, Fast and Furious 6 and Skyfall, Greg Powell, has designed the action sequences of Salman Khan's Prem Ratan Dhan Payo. The action in the film is reported to be in a complete different space and involves Sword Fighting and Hand to Hand combat.
Still on action, Akshay Kumar and Sidharth Mahotra were trained by real-life MMA (mix martial art fighters) for their characters in Brothers. All the fight sequences in Brothers are designed by real-life MMA fighters.
Blast from the past
The Wolf of Wall Street editor Thelma Schoonmaker was roped in by Anurag Kashyap to co-edit the film along with Prerna Saigal (known for The Lunchbox). Bombay Velvet looked a technically sound film on the screen; however, the story-line was squarely to be blamed for the disastrous outcome.
Dhoom 3 was converted to IMAX format by Jason Pomerantz, who has worked in films like The Dark Knight Rises, The Amazing Spiderman, The Avengers and many more prestigious Hollywood projects.