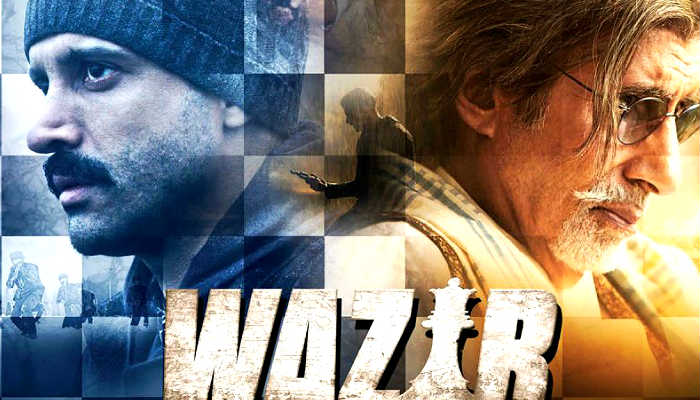 Rating: 2 stars (out of 5)
Wazir, the first Hindi film of 2016, is Bejoy Nambiar\'s 3rd film
Written and edited by Vidhu Vinod Chopra and Abhijat Joshi
Packaged as a cerebral thriller, its execution falls flat
Think about it. An old, paralyzed chess grandmaster wheels his way onto a deserted parliament road.
This shot is a story in itself. Endless possibilities. The kind of enigmatic one-liner that film-school students trip over. The actor is also the only superstar who consistently experiments with his roles. The score loudens, frame rates go berserk, intrigue, suspense and.he throws a shoe at a minister's car.
That is all. No aliens, bombs, impromptu Swachh Bharat drives, nothing.
The director, Bejoy Nambiar (Shaitan, David), who had burst onto the scene by winning the 'Gateway to Hollywood' contest, has made a career out of milking subversive moments. But when the music stops, his penny often drops. His story of unfulfilled promises reaches a rather simplistic anti-climax with Wazir.
Also read: Amitabh Bachchan-Farhan Akhtar's Wazir trade review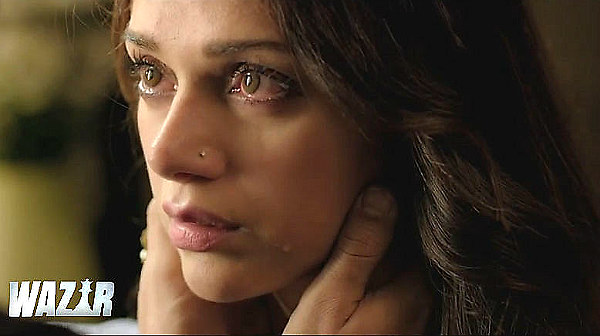 All Hark And No Bite
This 103-minute short film is one big false start. The last time I felt this shortchanged, Usain Bolt was disqualified before the race at the 2011 World Championships. Here too, I kept expecting a race to begin - any race - and the only one I identify eventually is a lethargic jog against logic.
It begins as a promising (there, that word again) exploration of loss and grief. Two fathers lose their young daughters, and forge an unlikely friendship. Pandit Omkarnath Dhar (Bachchan) is convinced that the much-loved Welfare Minister (Manav Kaul, whose Dr. Evil expressions are a dead giveaway) killed his chess-teaching daughter in mysterious circumstances.
Also read: Wazir cleared by the Censor Board with 'No Cuts'
But ATS officer Danish (Farhan) has only himself to blame for the death of his own little girl. Chasing terrorists with her in the car's backseat isn't exactly father-of-the-year stuff, but his actions are supposed to prove how patriotic he is. Granted.
There's naturally more to their pairing than meets the eye. Profound-ish lines like "Learn to learn, before you learn to win" make damn sure you know who's smarter.
Exposition on a platter
Whodunits and thrillers are, by nature, very interactive genres. They thrive on the filmmaker's ability to involve viewers, inviting them to second-guess themselves and make a slew of predictions. Casting is an important part of this Cluedo scenario. When you see Mr. Bachchan with a ridiculously twirled moustache, Neil Nitin Mukesh's hamming chalk-white face, or Kaul's distinctly antagonistic smirks, it's obvious from the get-go where things are headed.
It's made worse by the fact that the writer, who is also the editor and producer, insists on inserting overeager flashbacks (sometimes, from three minutes ago) to make sure every motivation is explained in grave detail. Again and again. From different angles.
Also read: Wazir: Farhan Akhtar, Aditi Rao Hydari, Vidhu Vinod Chopra answer the most relevant questions about the film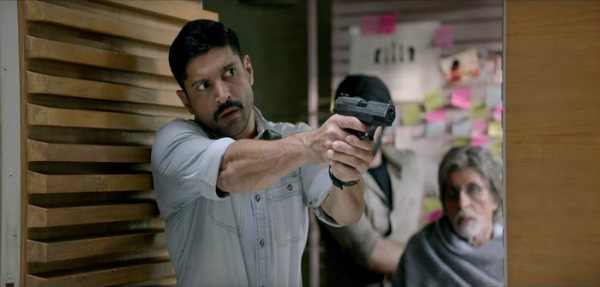 Dude, where's my suspense?
This plot is the mutilated brainchild of Vidhu Vinod Chopra - the mind that turned Parinda into Broken Horses. Here, to further his obsession with cheesy horse metaphors, he exploits the game of chess. Shatranj and Badshah life parables flow thick and fast, spoken in measured revelatory baritones.
When in doubt, he turns to Bachchan's pseudo-cerebral Aks-inspired "Khel Khel Mein" song, his voice, his mandatory 'Maula' introspection, or his melodramatic backstory. To forego technicalities of rescue/assassination missions, it always comes down to Danish becoming a one-man Deol-meets-Rambo army.
Also read: Wazir: Amitabh Bachchan praises Salman Khan, Shah Rukh Khan like never before
Another issue is the way old-school makers insist on using known faces (Prakash Belawadi, John Abraham) in rubbish bit roles. Worse - many are made to express heated emotions in stilted English, even though they clearly think and operate in Hindi. Lazy writing devices like phone-taps, voice recorders, estranged wives (Aditi Rao Hydari; wasted), written letters and everything short of white doves are used to arrive at that inevitable epiphany of dot joining.
Michael Caine once explained that a magic trick consists of three acts. To draw a parallel, Wazir stops at 'The Pledge' - the part where the makers simply show us something ordinary. They forget to make it do something extraordinary (The Turn) and reappear in a different light (The Prestige).
It is disheartening to begin 2016 like this. Fortunately, the only way from here is up.
Also read: All about Farhan Akhtar's action sequences in Wazir