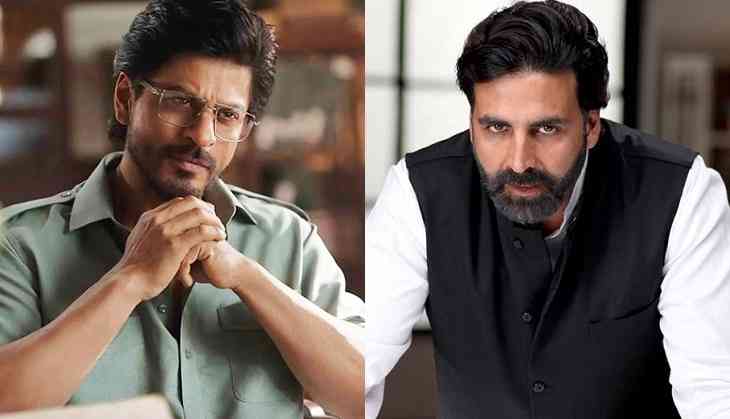 Shah Rukh Khan vs Akshay Kumar
Akshay Kumar's Toilet: Ek Prem Katha which was initially slated to release on June 2 will now hit the big screen during the Independence Day 2017 weekend thereby clashing with Shah Rukh Khan – Anushka Sharma's yet untitled film directed by Imtiaz Ali.
While the sudden announcement to clash surprised many in the industry, sources reveal that it was a calculated risk taken by the makers of Toilet: Ek Prem Katha. On face of it Toilet: Ek Prem Katha is a safe film as it has been made on a controlled budget and would easily get the hit tag at Rs 90 crore. That isn't difficult for an Akshay Kumar film with good content; be it with clash or without clash.
Disadvantages of releasing on June 2:
Ramzan Release:
Ramzan is considered a dull period for film business as the Muslim audience usually don't watch films during the Holy Period. The film was supposed to release in the middle of Ramzaan which would have impacted the business potential by a considerable margin.
Champions Trophy Match:
While Sunday is considered to be the best day of business for a film releasing during a non-festive season, Toilet: Ek Prem Katha wouldn't have got the benefit as the collections would have been hampered by a huge margin due to India vs Pakistan Champions Trophy match on June 4.
Constant flow of releases:
Toilet: Ek Prem Katha is essentially a word of mouth driven film as it does not feature Akshay Kumar in a conventional Hindi film hero character. The social drama would face competition from new releases week after week thereby taking away the screens across the country. June was initially jam packed with films like Raabta, Tubelight and Transformers releasing after TEPK.
Advantages of releasing on August 11:
GST Benefit:
The GST bill has been passed and will be applicable across the country from July 1. With GST, the amount of money payable to government would reduce thereby increasing the revenue for producers.
Holiday Season:
After Eid, Diwali and Christmas, Independence Day week is the best one for film release as the business would be boosted by four major holidays: Independence Day, Janmashtami, Parsi New Year and Sunday. Given the Holiday period, the film might perform better than the initial release date in case it commands a good word of mouth.
Clash Benefit:
On the face of it, Shah Rukh Khan – Anushka Sharma's next is a much bigger film in comparison to Toilet: Ek Prem Katha. However, due to the clash, the film would get a much more media coverage that would help majorly in generating the buzz. We have often seen smaller films benefitting by a clash and this would be no different.
Conclusion:
In terms of screen count, Shah Rukh Khan would have a considerable lead as the distributors; NH Studioz would sign a two film contract with exhibitors by clubbing the Imtiaz Ali directorial with Tubelight. Given the rates at which the distributors have acquired the film, it gets all the more important for the film to fare well in long run. Toilet on other hand is a moderately budgeted film, which might surprise everyone with the results.
Shah Rukh Khan has defeated Akshay Kumar thrice before in a clash, and it would be interesting to see if history repeats itself or it would be changed this time.
Whatever the final result, Akshay seems to have more to gain than lose in this scenario.