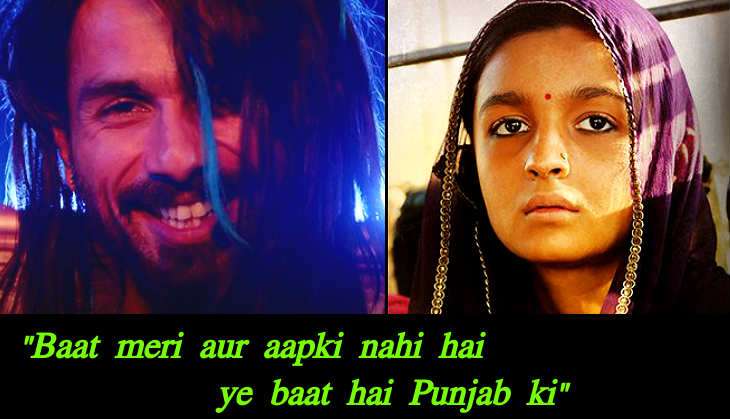 Bollywood is ecstatic after the Bombay High Court on Monday overruled the CBFC recommended 13 cuts to the film Udta Punjab and cleared it for release with one cut and three disclaimers.
A division bench comprising Justice SC Dharmadhikari and Justice Shalini Phansalkar-Joshi also directed the Central Board of Film Certification (CBFC) to issue an 'A' Certificate to the film which is scheduled for release on Friday, 17 June.
Featuring Alia Bhatt, Shahid Kapoor, Kareena Kapoor Khan and Diljit Dosanjh, Udta Punjab shows the rising drug menace in the Indian state of Punjab.
As soon as the high court passed the verdict on the issue, #UdtaPunjabVerdict trended on Twitter. And here's how the people from the film fraternity are reacting to the news:
Landmark judgement#UdtaPunjab will fly and so will the voice of freedom and expression. Thank you all for the support. This is your victory

— Shahid Kapoor (@shahidkapoor) June 13, 2016
See you at the movies on 17th June! Thank you for your tremendous support! #UdtaPunjabVerdict #UdtaPunjabOn17thJune pic.twitter.com/EKQVBEXMwo

— BalajiMotionPictures (@balajimotionpic) June 13, 2016
And FINALLY #UdtaPunjab will flyyyyy!!Here's to freedom of expression, to our judiciary, to the industry, to the media and to YOU ALL!! ❤️❤️

— Alia Bhatt (@aliaa08) June 13, 2016
Here we come !!!!! #UdtaPunjabOn17thJune @shahidkapoor @diljitdosanjh #kareenakapoor @EkmainaurEktu7 @FuhSePhantom @balajimotionpic ⭐️⭐️⭐️

— Alia Bhatt (@aliaa08) June 13, 2016
Creativity wins over madness!! So, make way as #UdtaPunjab readies to take flight! Bombay High Court clears film! 😃💃👏 @aliaa08 @shahidkapoor

— Prashant Singh (@SinghhPrashant) June 13, 2016
I applaud all the brilliant observations made by the Court where it speaks about the FOE of a filmmaker.#UdtaPunjabVerdict.

— Ashoke Pandit (@ashokepandit) June 13, 2016
The triumph of #UdtaPunjab is the victory of #Democracy. And a victory for the spirit that DOES NOT GIVE IN OR GIVE UP.

— Dia Mirza (@deespeak) June 13, 2016
The #UdtaPunjabVerdict is the verdict to protect the values of Indian Constitution. FOE.

— Ashoke Pandit (@ashokepandit) June 13, 2016
Thank U Judiciary for giving back the makers of Indian Cinema their right to express. Salutes. #UdtaPunjabVerdict

— Ashoke Pandit (@ashokepandit) June 13, 2016
Big congrats to team Udta Punjab for victory in high court. Big congrats to all Indians. We still live in a free country. #UdtaPunjabVerdict

— Chetan Bhagat (@chetan_bhagat) June 13, 2016
Censor chief stifled creativity & years of hard work, made a filmmaker vulnerable and spoilt India's image. HC saved it #UdtaPunjabVerdict

— Chetan Bhagat (@chetan_bhagat) June 13, 2016
Shukar 😊🙏 https://t.co/0w9vZ44Kbb

— DILJIT DOSANJH (@diljitdosanjh) June 13, 2016
Well done, Bombay High Court.
Not only did you protect creativity.
You also got to watch Udta Punjab without the cuts!#UdtaPunjabVerdict

— Sorabh Pant (@hankypanty) June 13, 2016
The taste of freedom ! Vishesh, Arijit , Alia , Srijit & Gurudev pose for a picture after the verdict on UDTA PUNJAB pic.twitter.com/5pq6qxIqD1

— Mahesh Bhatt (@MaheshNBhatt) June 13, 2016
Landmark judgement by the honorable Bombay High Court on #UdtaPunjab. Great victory for the filmmakers. 🙏

— Madhur Bhandarkar (@imbhandarkar) June 13, 2016
For all those asking, YES, cuss words in #UdtaPunjab will be retained

— Komal Nahta (@KomalNahta) June 13, 2016