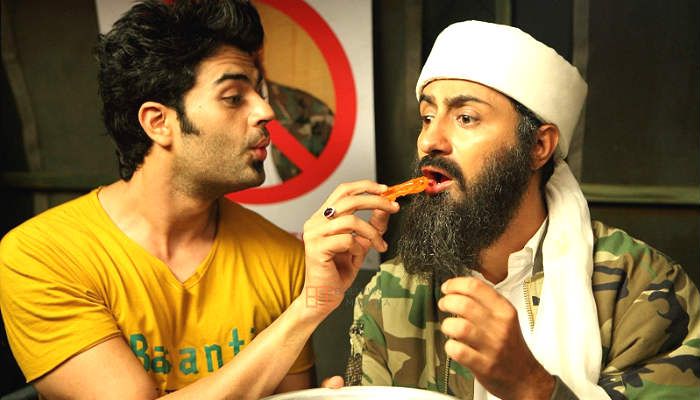 Rating: 3 stars (out of 5)
The sequel in spirit to Abhishek Sharma\'s 2010 debut hit Tere Bin Laden.
The director made The Shaukeens in between these two.
Stars Manish Paul, but Sikander Kher is the standout comic.
Midway through Tere Bin Laden: Dead Or Alive, I began looking for Leslie Nielsen. Surely, he was about to pop up in an absurd getup doing inane things, and nobody would even recognize him. This is probably the best compliment one can lavish upon a madcap, no-holds-barred satire-cum-parody-cum-slapstick comedy.
This is an infectious film, an energy that is mostly down to a thoroughly inventive (and stupid, and funny) plot. If you thought Abhishek Sharma would simply make a sequel to the 2010 sleeper-hit by overusing the "Osama Is Alive" gag, think again.
An Audacious Setup
As it turns out, the Ali Zafar starrer was actually a Bollywood movie (in this film) directed by budding filmmaker Sharma (Manish Paul; takes time to ease in). This is ingenious meta stuff. Now Sharma wants to make a sequel with the popular Osama doppelganger (Pradhuman Singh), and even pitches it to the Shetty sisters (the real producers). But the film is canned when Osama really dies.
Also read: Here's why Ali Zafar isn't playing the lead in Tere Bin Laden: Dead or Alive
Meanwhile...
here begins the endless digs at America, terrorism and everything in between. Simultaneously, President Obama (terrific mimicry) has to prove that the Seals actually killed Bin Laden - because we never did see the body, did we? So he dispatches an obnoxious agent David Dosomething (Sikander Kher; unrecognizable) to find a way. Naturally, David disguises himself as an oily Jatt chap and travels to Bollywood with an attractive assistant named 'Junior' - a nice hat tip to every inconsequential female character employed in desi comedies. Their plan:
Fool Sharma and the Osama lookalike into dramatically recreating the famous Abbotabad kill, so that the camera can capture it this time.
Also read: Look what Manish Paul has to say about Akshay Kumar and megastar Amitabh Bachchan
And Somewhere Else...
And simultaneously, a senile terrorist named Khalili (Piyush Mishra) wants to kidnap Sharma and his actor to inspire his troops into believing their leader is alive. You know this is heading for a chaotic Priyadarshan climax. Still, it's scarcely believable that such juvenile humour can be innovative too.
In many ways, this is reminiscent of Kunal Roy Kapoor's satire, 'The President Is Coming.' It caricatures established caricatures of cinema and self-important politics. When the terrorists abduct the crew to their camp, Sharma thinks they've been taken to a rustic Hollywood set to shoot their sequel. Donkeys scream into loudspeakers to set off an alarm when the Americans invade. In hindsight, this looks funnier than it sounds. So does the running gag of Obama seeking psychiatric help for his obsession with dead Osama.
Also read: Here's the trailer review of Tere Bin Laden: Dead or Alive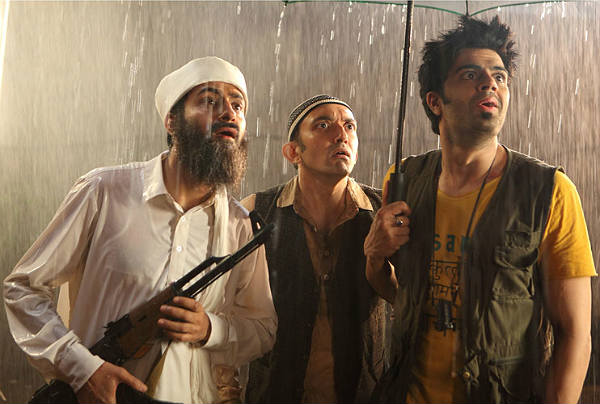 Actors having a ball
At the Abbotabad set, David gets carried away by Sharma's dramatic narration and lets him use his original actors (Sugandha Garg as Osama's slutty wife, Rahul Singh as a voice artist). Garg, in particular, plays the airheaded urban actress to the hilt; notice how she obsesses with the terms 'rustic' and 'earthy' to acclimatize.
But really, it's Sikander Kher who turns in a shape-shifting (literally) performance as David Dosomething/Chaddha. He is an absolute hoot, and his transition from yank to yuck is a sight to behold - especially the way he adjusts his neck-inbuilt dialect translation button (I know, right?).
Also read: 24 Season two: Will Anil Kapoor up his game? Sikander Kher says he will
Intentionally Idiotic
This is the kind of film that wants to see your face when they show you toy planes parading as Seal Team copters. I suspect the joke will be on me if I write about how improbable and bizarre the treatment is; how unapologetically offensive, racist and stereotypical every character is. It's predictable and terribly loud, yet everybody seems to be having so much fun that it's hard not to smile.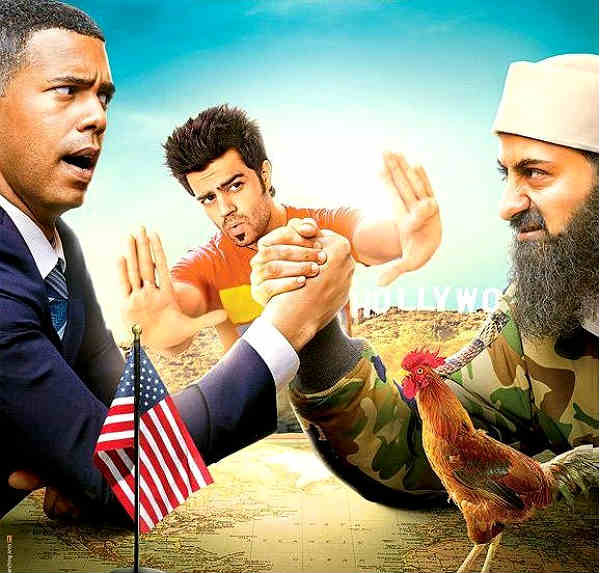 Notably, the writing is supremely self-aware, a bit too deliberate at times. Thankfully, there are no hidden social messages, sob speeches and soppy climax lessons. This is a never-ending train wreck of pure harebrained humour - relevant for three separate regions and cultures that have forgotten how to laugh at themselves.
The Good Kind Of Brainless
This is perhaps what they really mean by "leave-your-brains-at-home". I find myself shaking my head hopelessly while writing this. But I'm also giggling. That is much more than can be said about the patronizing comedies churned out these days.
Also read: Tere Bin Laden Dead Or Alive is not on Osama's life, says Manish Paul