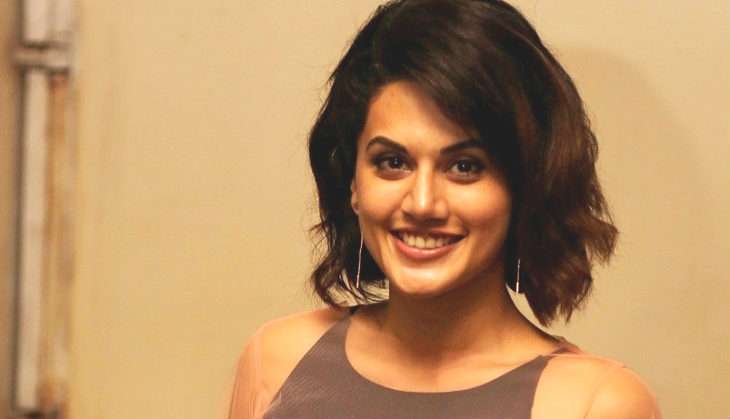 Three years after she made her Bollywood debut with the successful David Dhawan comedy, Chashme Baddoor, Taapsee Pannu has blossomed into a star with the rave reviews she has been receiving for her latest film, Pink. Taapsee has been able to make her impact on the viewers despite Amitabh Bachchan's formidable presence.
A bit overwhelmed by the Box Office response to the film over its first weekend and the positive reviews coming her way, a befuddled Taapsee says, "Frankly speaking, it hasn't seeped in as yet because we have been promoting the film so crazily that I have just had half-a-day break between shootings of late."
The industry seems to have already accepted Taapsee; she has already moved on to her next film -- Naam Shabana, which is the Neeraj Pandey produced sequel to her 2015 hit, Baby. Taapsee points out, "I have just joined the sets of Naam Shabana on September 19. So the positive reaction to Pink hasn't seeped in yet. It's almost so good that you don't want to believe that something so good can actually happen. I have gotten tweets and messages from random people; and not even a single tweet has been average. So many people have messaged me thanking me for doing this role because it has given them a lot of courage."
In Pink, Taapsee plays a determined, modern day woman who refuses to be cowed down when faced with sexual harassment. The actress says her portrayal has struck a chord with many. "A girl who was my junior in college and with whom I had lost touch said, 'I saw this film with my family and after walking out of the theatre they still believe that it's not right to have sex before marriage, and it's not ok to wear these kinds of clothes, but I have tears of joy in my eyes because you were able to represent my viewpoint.'"
Extremely excited, Taapsee asks rhetorically, "Isn't it too much to handle for my third film? I have been getting messages saying that you proved to be our role model! That's too much to handle!"
-- Sourced from Ami Sheth, Bollywood News Service