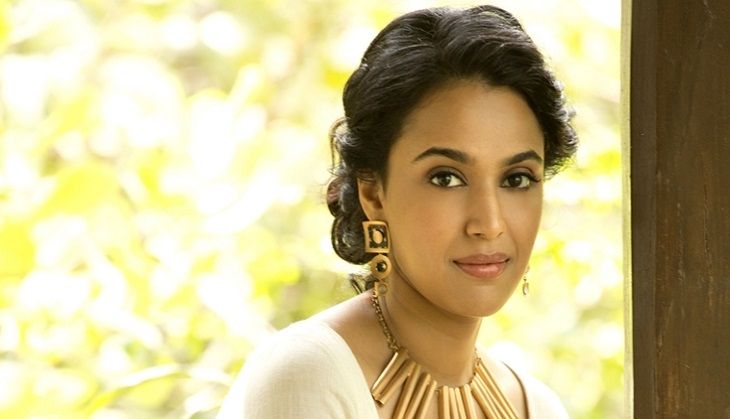 Actress Swara Bhaskar, who was last seen essaying the role of Salman Khan's sister in the 2015 family drama, Prem Ratan Dhan Payo, is currently gearing up for the release of her upcoming film, Nil Battey Sannata.
During an interaction with Catch, the actress got candid about the film, the perception of commercial success, the difference between a star and an actor and much more. Excerpts: 
Should Nil Battey Sannata be promoted in rural India?
"The film is basically about people and their dreams. Educating daughters of rural India is just one part of the story, but I feel that we need to promote the film even in rural India so that more and more people watch it. Education is very important for social transformation of the country and for life in general, so I hope we can make this film reach places where there are no theatres even."
Does this film deserve to be declared tax-free?
"This is definitely a film that deserves to be tax-free, so I genuinely hope that it gets that status across the country. I hope all the states realise the importance of this film and support it because in my opinion this film deserves all the support."
What made you sign on for Prem Ratan Dhan Payo? 
"I think films like Prem Ratan Dhan Payo appeal to a large section of audience. It is a big commercial film with a big superstar, so it will have all the reach and appeal. People will remember me for smaller roles in big films like Tanu Weds Manu, Tanu Weds Manu Returns or Prem Ratan Dhan Payo but they won't remember me for my small independent films. Every time I do a film like Prem Ratan, it helps me sell at least 1,000 more tickets to films like Nil Battey Sannata. I think this is the strategy that I follow because it makes a lot of sense and it is a good balance to have in life. I get to work in all kind of films, which is good for me as an actor."
So you are not apprehensive about doing supporting roles in commercial films?
"I give my 100 per cent to whatever work I get. I don't look at it as a supporting character but I think I have been lucky with the kind of roles I have been offered because they have potential. An actor cannot do any magic if the character has no potential, so I have been lucky that writers and directors have given space to my character to grow. I think honesty is something which audience receive very well."
But, what about the fact that most people come to Mumbai hoping to become big stars?
"Movies are not a medium of actors, but it is the medium of director. We all are seduced by the glamour and seeing our face so much on the page 3. I look a certain way so that people remember my face. I attend parties, launches, dress up well so that I have my image in public memory and these are not something one would do to be a better actor. Even good actors have to seem like big star and that is like a vicious circle. When we say acting, it is more of ting and less of act. I think I am a competent actor, but to maintain that, I have to keep getting work and to keep getting work I have to seem like I am a star. It is like a crazy cycle."
You've worked with some of Bollywood's biggest directors. What is that like?
"I am lucky to have worked with directors like Sanjay Leela Bhansali, Sooraj Barjatya, Aanand L Rai in such early days of my career. I think they are one of the most exciting directors of our time. Adding to that, I am fortunate enough to work with great actors like Farooq Shaikh, Deepti Naval and a big superstar like Salman Khan at the same time. It is a pretty good balance of commercial and independent cinema. I think this is a great achievement for someone who is completely an outsider. I have fought for every close up of mine and I have earned it because of my acting."
What is your take on the rising prices of movie tickets?
"I think in general, ticket rates for Bollywood film should not be so high because entertainment is not the prerogative of rich people, I think even poor people should be able to watch films in big cities. Personally I feel bad that tickets are priced so much. I don't know much about the other side of business but I think one of the major reasons why government should support our film is to keep ticket rates under control."
Will we see you working with Sonam Kapoor again in Veeray Di Shaadi?
"I can't really comment on that now, but I would love to work with Sonam again. I love Sonam and she is an amazing girl."