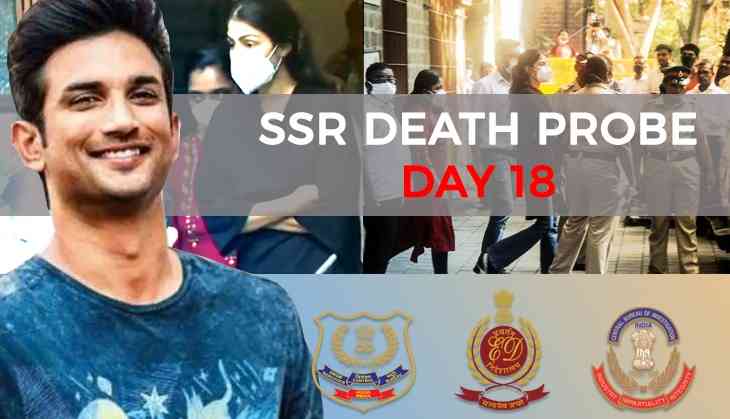 On day 18 (8th September) of investigation, NCB arrested Rhea Chakraborty after questioning her for the third consecutive day. As per reports, the actress confessed to consuming drugs. She said that she took it with Sushant Singh Rajput, her brother Showik and his friends.
On the other hand, CBI once again summoned Disha Salian's friend and talent manager Uday Singh Gauri for questioning in Sushant's death case. As per reports, SSR spoke to him on 13th June a day before the actor was found hanging in his Bandra flat.
Here, have a look at the events that happened yesterday:
8:49 am:- Rhea Chakraborty's FIR against SSR's sister Priyanka Singh, Dr Tarun and other is transferred to CBI.
10:34 am:- Rhea reaches NCB office for questioning on a third consecutive day.
10:49 am:- Rhea's lawyer Satish Maneshinde alleged that SSR could have died due to cocktail of drugs and banned medicines that his sister Priyanka prescribed.
Also Read: Rhea Chakraborty's father Indrajit expresses deep dejection on rejection of her bail plea
12:27 pm:- Disha Salian's friend and Talent Manager, Uday Singh Gauri reaches DRDO guesthouse for interrogation by CBI.
12:34 pm:- NCB Sources: Rhea Chakraborty agrees that she took drugs with Sushant, Showik and his friends. She even said that she asked the actor to quit taking drugs a lot of times but he did not agree. She confessed the same during cross-questioning with brother Showik. The drugs used to come to the house for the actor and his friends
12:47 pm:- Sushant's family lawyer Vikas Singh while addressing the press said, "Bandra Police Station seems to be #RheaChakrobarty's second home as she runs to the police station over all kinds of petty issues: Vikas Singh, lawyer of the father of #SushantSinghRajput on her complaint against the late actor's sister and others."
Illegal, fabricated prescription and administering scheduled drugs without following the law- these facts have come to light now. Bogus prescription was received within Bandra PS limits. Hence, the FIR: Rhea Chakraborty's lawyer on her FIR against #SushantRajput's sister & others https://t.co/4abLi0GvOI

— ANI (@ANI) September 8, 2020
12:53 pm:- Rhea questioned in front of drug peddler Anuj Keshwani
12:53 pm:- Vikas Singh during a press conference said, "An order by SC saying that an FIR against a doctor can happen only after the constitution of a medical board. Here the Bandra police didn't constitute any medical board."
Also Read: From BMC to ex-Mumbai Police officer, Kangana Ranaut receives 2 legal notices in one day
1:17 pm:- Rhea told NCB officials that SSR used to take drugs every day and since actor's death she hasn't taken drugs
2:13 pm:- List of Bollywood celebs has been prepared by NCB officials as per pictures found in Rhea's tablet and soon officials might summon these celebs.
2:32 pm: NCB summoned SSR's cook Neeraj and Keshav
2:46 pm:- SSR's father KK Singh filed an FIR against psychiatrist Dr Susan Walker for making the late actor's medical report public and breaching medical conduct guidelines.
Sushant Singh Rajput's father KK Singh filed a complaint to Medical Council of India stating, "any consultation between Sushant Singh Rajput & Registered Medical practitioner Susan Walker was strictly confidential & disclosure of same would be misconduct under IMC regulation." pic.twitter.com/ImOsddhEs1

— ANI (@ANI) September 8, 2020
3:32 pm:- NCB arrests Rhea after she admitted to consuming drugs to officials
4:11 pm:- Rhea's lawyer Satish Maneshinde issues statement after her arrest, "Travesty of Justice. 3 Central Agencies hounding a single Woman, just because she was in love with a Drug Addict and was suffering from Mental Health issues for several years under the care of 5 Leading Psychiatrists in Mumbai, who ended up committing suicide due to the consumption of Illegally Administered Medicines and used drugs."
Travesty of justice. 3 central agencies hounding a single woman just because she was in love with a drug addict who was suffering from mental health issues for several yrs & committed suicide due to consumption of illegally administered medicines, drugs: #RheaChakraborty's lawyer

— ANI (@ANI) September 8, 2020
4:19 pm:- Rhea took to Sion hospital for COVID-19 and other medical tests
7:37 pm:- Rhea's lawyer applied for bail which got rejected later
8:44 pm:- Rhea produced before magistrate via video conference. 14-day judicial custody granted. The remand copy states that Rhea is an active member of a drug syndicate, she procured drugs for consumption and was involved in financial deals.
Also Read: Bigg Boss 14: Wow! Salman Khan's house to have these luxurious things amid COVID-19