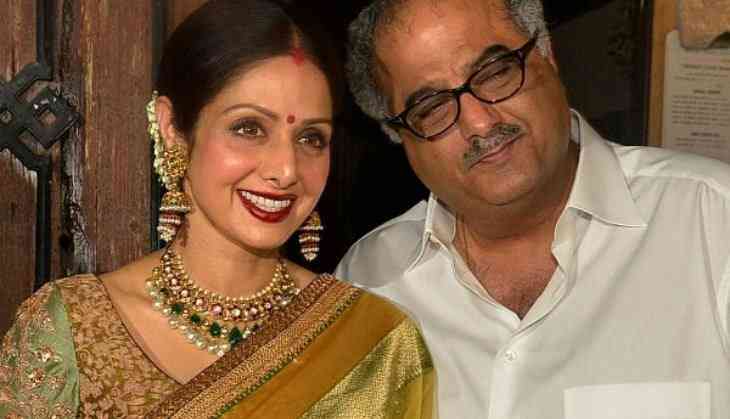 Bollywood veteran actress Sridevi would have celebrated her 56th birthday today if she was alive, however, unfortunately, she left the world in February month last year. Sridevi was a legendary actress and she had always broken the imagination of art. But with that her personal life also had made a lot of headlines and especially for her marriage life.
She married to an already married man Boney Kapoor in 1996 in a private ceremony and their marriage became a big point for media. Many questions were raised and Sridevi was targetted that how can she married an already married man after she said in an interview that she will never marry a married man.
Actually, there was a time, when Sridevi was in the buzz for her alleged affair with co-star Jeetendra. Meanwhile, she always denied all these kind of rumours and even in one of her interviews she said that she will never marry a married man.
Sridevi was quoted saying in an interview, "He is such a nice man, I can never forget how helpful he was on my first day of shooting. I was extremely nervous since Hindi was a new language for me, and my first Hindi film Solva Sawan, hadn't done well. But Jeetu gave me all the moral support and confidence I needed. He went out of his way to make me feel comfortable by explaining the dialogues to me, and his kind and helpful nature really appealed to me."
"Never! Honestly, till this day, I have never been to Jeetu's hotel room, nor has he ever come home. I know people have been saying a lot of bad things, but this is the truth." she added.
"I am an innocent girl. I'm not a fool, but I am not a calculative person either. And I am certainly not a man-eater."
Sridevi even discussing marriage and the allegations made on her for being ready to be the second wife. She said "I will never marry a married man. It's a wrong belief that second wives are a common feature in the South. Even here, it's a big thing to marry a married man or have a second wife. Everyone gossips about it. People are more conservative in the South than in Bombay."
Also Read - Kartik Aaryan shares a lovely selfie with 'princess' Sara Ali Khan all the way from Bangkok