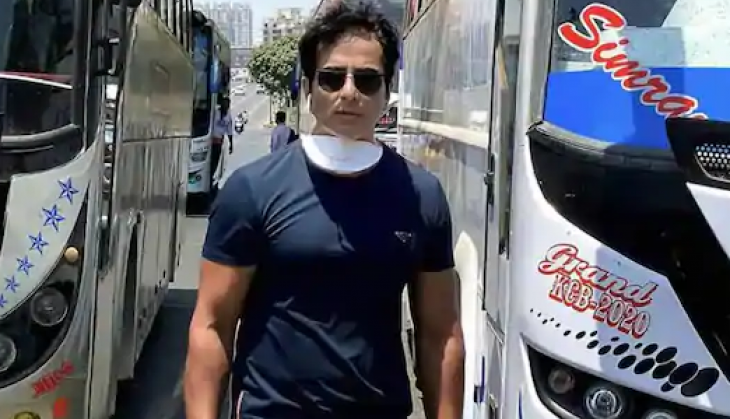 Sonu Sood is working day in and day out to help the migrants reach home amid Coronavirus lockdown. So far actor has arranged multiple buses for stranded people in Mumbai and neighbouring cities to send them back to where they belong. For his action, Sonu is receiving immense applaud and love from all over the nation.
Well, not just by words, netizens have made some memes highlighting his relief work and are sharing them endlessly. One such meme grabbed Sonu's eyeballs and he could help but laugh out loud as soon as he saw it. In the meme, we can see two images one of Alia Bhatt from Raazi wherein she is crying and begging to go back home. While in the second image is Pankaj Tripathi's scene from Mirzapur with Sonu's morphed face on it.
Also Read: Imtiaz Ali grooves with daughter Ida in this TikTok viral video
On seeing this meme Sonu couldn't help and dropped bunch of laughing emojis while sharing the meme on his Twitter handle.
Here have a look:
😂😂😂😂😂😂 https://t.co/mQMV1gvC3t

— sonu sood (@SonuSood) May 21, 2020
Not just this even celebrated chef Vikas Khanna has named his dish after Sonu's birthplace for actor's charity. Well, this is really great full of him, people recognizing Sonu's efforts and applauding him for his humanity is the only thing a person wants.
During an interview, he said, "I feel it is my duty to help the migrants, the heartbeats of our country. We have seen migrants walking on the highways with their families and kids. We just can't sit in the AC and tweet and show our concern till we don't go on the roads, till we don't become one of them. Otherwise, they will not have the trust that there is someone standing there for them. So I have been coordinating for their travels, for permissions from different states."
Also Read: Bollywood Eid celebration 2020 with side effects of coronavirus
He further added that this has become his job during the lockdown and is really satisfied with it. Sonu is not just helping the migrants rather he is helping whoever approaches him for help through Twitter.
Also Read: Sonu Sood's fighting scene from Manikarnika that made him exit from the film got leaked; see video