Shivaay has been talk of the town ever since the theatrical trailer launch in Mid-August. The film, starring Ajay Devgn and Sayesha Saigal is the story of a mountaineer who races against time to save his daughter.
Does all the hype add up? Let's analyse:
What may work for the film:
Most of the action sequences of Shivaay are flawless and shot with perfection. Ajay Devgn lives up to his promise and delivers some first class action. The stunts in the first half are some of the finest in Bollywood till date, and are well complimented by the background score that keeps the adrenaline pumping.
The opening sequence of the avalanche sets the stage for an epic big screen experience. Devgn shows off his directorial skills by using two songs - Darkhast and Raatein - to set the emotional tone of the plot by establishing the relationship between the characters of the film.
Ajay Devgn does justice to the larger-than-life character of Shivaay and manages to get the viewers rooting for him and his onscreen daughter.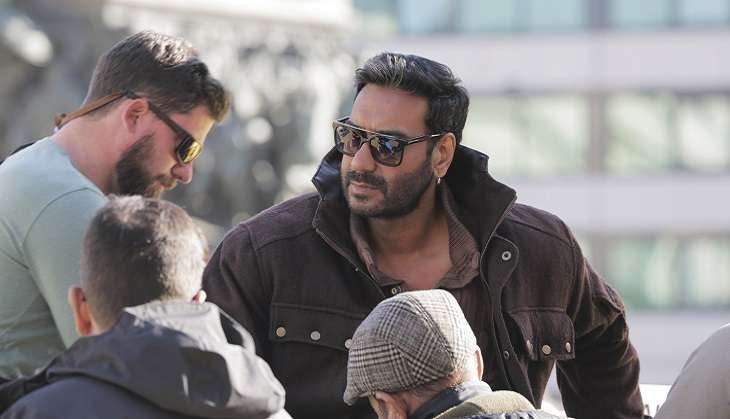 Ajay Devgn in Shivaay (Movie Still)
What may not work for the film:
Shivaay's biggest flaw is its runtime. At close to three hours-long, the plot runs thin. While the first half is packed with awe-inspiring visuals and action scenes, the second-half runs solely on sub-plots and poor characterisation.
What happens when a father has 72 hours to rescue his daughter from a prostitution racket in Bulgaria? Despite the grand scale of the film, the script fails to capitalise on the film's promising premise as things that are unfolding on the big screen fail to make sense after one point.
The dialogues in Shivaay are out-dated and seem to be borrowed from the Bollywood films made in the 1980s.
Shivaay is also let down by its underwhelming climax, which not only suffers from poor VFX but also comes with a shoddy action sequence that is cringeworthy.
Besides Devgn, the other actors in the film fail to deliver memorable performances. Veteran actors like Saurabh Shukla and Girish Karnad are wasted in the film and their characters add no value to the plot.
Will Shivaay do well at the Box Office?
Shivaay is replete with crowd-pleasing moments, which will help enhance its appeal at the single screens. However, multiplex viewers are likely to reject the action film in favour of Ae Dil Hai Mushkil. Shivaay's battle with the Karan Johar film will decide if Devgn's efforts have won him a place in the Rs 100 crore Box Office club.
Given the dull pre-Diwali release period, a bumper opening is out of question. However, Shivaaymay trend well at places like Rajasthan, Uttar Pradesh, CP, CI and other mass dominated areas.
It is essential for Team Shivaay to rake in big bucks of the Box Office, considering the budget of the film.
Box Office Prediction for Shivaay:
Opening Day (28 October): Rs 11 to 12 crore
Opening Weekend (3 days): Rs 34 - 37 crore
Opening Weekend (4 days): Rs 50 - 53 crore
Lifetime Box Office collections: Rs 90 to 95 crore