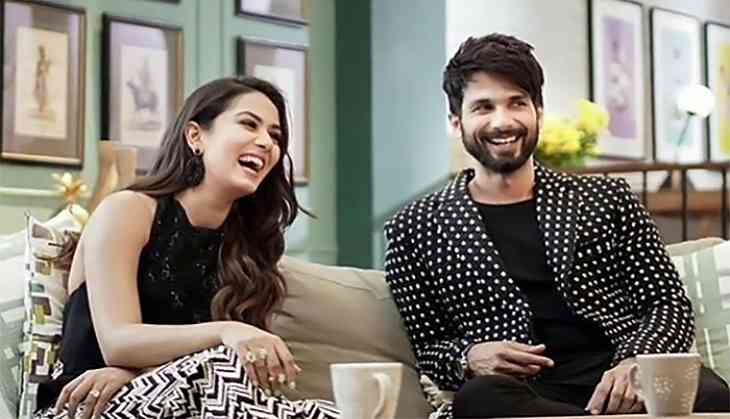 Bollywood actor Shahid Kapoor who got married to Mira Rajput on 7th July 2015. Soon after their marriage, they have become the stunning couple of Bollywood. After tying in a nuptial knot, the duo didn't take much time for their family and blessed with a daughter Misha after one year of their marriage on 26 August 2016.
Few days back, the couple fabs were expecting that they are going to have another child soon. The reason behind their expectation is because of Mira's loose-fitting dress that had been spotted and shared on the social media. Netizens thought that she wore because she wanted to hide her baby bump.
Well, after all rumours doing the round on the Internet, Padmaavat actor confirmed the news in a unique style that has won everyone hearts. He shared a beautiful picture of Misha in which she was lying beside a drawing of balloons with a lovely message, 'Big Sister'.
Here's how Shahid shared this good news with his fans:
Previously, during an interview, Mira and Shahid have expressed their wish for another child to make their family complete.
As soon as Shahid and Mira confirmed the news, people started congratulating them but some are also there who also trolled and mock them for having another child so early.
Here's how people reacted to the Shahid posts:
Instead of doing the assigned work, @shahidkapoor is busy increasing the population of India. 😰😝

Follow Instagram for more : 'Unseen Friend'#ShahidKapoor #MiraKapoor #MiraRajput #misha #Shasha #CSKvRR pic.twitter.com/GTnn0WTTNd

— Unseen Friend (@theUnseenFriend) April 20, 2018
#MiraRajput #MiraRajput shahrukh ke 3 bache farahkhan ke 3 bache amir khan ki 2 wives 3 bache saif ali khan ki 2 wives 2 bache javed akhter ji ko 2 bache
Iss bechare ne 2nd ke liye khushkhabri sunaiye to kyuu problem hogyi baii ???

— AakashDayal (ਆਕਾਸ਼ ਦਿਆਲ) (@AakashDayal3) April 20, 2018
#MiraRajput is pregnant again.. Just show shahid Kapoor k pass jyada kaam nahi offlate.. 😁

— crime master gogo (@vipul2777) April 20, 2018
#MiraRajput hahaha...this is India...WHR people trend bcoz of pregnancy gud news....mira kapoor wahi na Jo trend kar ri h..bcoz of pregnancy... Is this funny.. Ofcourc very funny....stars k lyf m itna interest lene se accha h khud PR dhyan do...

— Nikita Dayma (@NikitaDayma) April 20, 2018
😂😂
Aur complain krte Hai'n population zyada hai !
Khud to kam krlo pehle ...#MiraRajput https://t.co/fXsF6naumr

— Javad Maulai (@JavadMaulai) April 20, 2018
Abe Ye Chhodd....Dhai(2.5) saal mein Doosra Baccha...😁😁
Waise you are right

— Kshitij Bhambri (@yobhambri) April 20, 2018
#MiraRajput is trending bcz she's pregnant ...

Lol !
Could it be any more useless ???

We're really going to extremes in terms of loving bollywood and movies .

— Javad Maulai (@JavadMaulai) April 20, 2018
Hope so #ShahidKapoor follows the population control in India and just stick to "hum do humarey do"😋 nyways #congrats #couple #tobeparents #MiraRajput too young to be a Mommy to two kidzz😋"Her life her choices"🙏🏻👍🏻

— Sudhika♏♌💞 (@pearl_sarika) April 20, 2018
Misha is going to be a big sister 😍😭
This is such a great news❤️
Congrats @shahidkapoor n @MiraRajput

— Zehra❣ (@ImZehra) April 20, 2018
#MiraRajput Accidental pregnancy marketed well.. Nothing else 😥

— Manu Vashishth (@manu_vashishth) April 20, 2018
It seems like trollers have nothing to do anything better instead of jumping into personal life on social media.
Do you also think that it is a wrong decision of Shahid and Mira to have a second baby?
Also read: Deepika Padukone and Ranbir Kapoor walking hand-in-hand will remind you of Bunny and Naina from Yeh Jawaani Hai Deewani; see pics