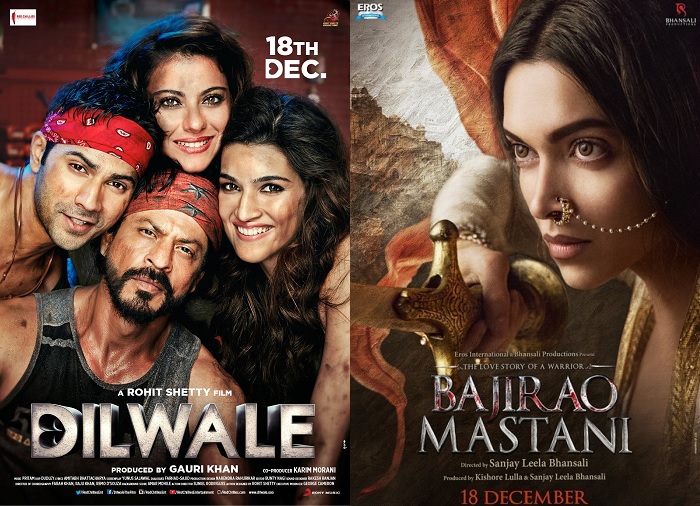 Sanjay Leela Bhansali's Bajirao Mastani and Rohit Shetty's Dilwale are set to go head-to-head on 18 December.
The trailers and songs of both films have been released over the last few weeks. And going by the reaction from the audiences, it seems like the Shah Rukh Khan-Kajol starrer is all set to leave the Ranveer Singh-Deepika Padukone love story far behind.
Barring Baahubali and Jodhaa Akhbar, Bollywood audiences have failed to accept period dramas in a big way. Even the box office favourites, the Khan trifecta - Aamir Khan, Shah Rukh Khan and Salman Khan, who were part of period dramas like Mangal Pandey, Asoka and Veer, respectively - could not succeed with period dramas.
Also Read:
War sequence is one of the major highlights of Bajirao Mastani, says Deepika Padukone
With 18 December as its release date, it is safe to assume that the general audience will lean towards light-hearted films during the festive season. And since Dilwale comes from the team responsible for crowd-pleasers like the Golmaal Series, Singham, All The Best, Chennai Express among many more, it promises to be a powerhouse of entertainment.
Though the theatrical trailer of Dilwale received mix responses from audiences, the Khan-effect is sure to work in its favour at the box office.
Team Bajirao Mastani have also released two songs and a teaser. However, the film seems to lack the mass appeal that Dilwale does.
Also Read:
There are 7-8 grand action sequences in Rohit Shetty's Dilwale, says Shah Rukh Khan
Like Ram Leela, the main target audience of Bajirao Mastani will be the Mumbai circuit (Mumbai and Gujarat). However, the Sanjay Leela Bhansali film may find it difficult to hold on its own when faced with Shah Rukh Khan, whose popularity also extends to global audiences.
Dilwale also marks the return of one of Bollywood's best loved couples, Shah Rukh Khan and Kajol. The Rohit Shetty entertainer also stars Varun Dhawan and Kriti Sanon. The trailer also promises some intense emotional scenes between Khan and Dhawan.
Also Read:
No need to worry about the Dilwale and Bajirao Mastani clash, says Deepika Padukone
Though the end result would boil down to the content of the film as audiences are the king, but the above mentioned factors will definitely give Dilwale an edge over Bajirao Mastani in its opening weekend at the Box-Office.