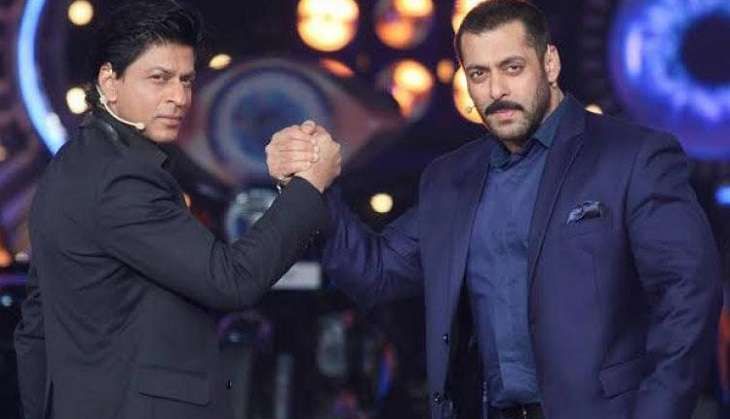 Shah Rukh Khan, Salman Khan and Aamir Khan are probably three of the biggest superstars Bollywood has ever seen. The Khan trio have been dominating Bollywood since over 25 years and King Khan reveals that not once have they discussed their 'stardom'.
In an interview with Anupama Chopra for Film Companion, Shah Rukh Khan revealed that the three Khans often discuss the possibility of teaming up together for a film.
"Salman Khan, Aamir Khan and I have never spoken about superstardom that we have. Sometimes we speak as to how we can make a difference by working together, but that's just the good things I am telling you. We even talk dirty shit," said SRK.
Also Read: Are Shah Rukh Khan, Salman Khan & Aamir Khan the last of Bollywood's superstars? Hear it from SRK himself
Recalling a discussion he had with Salman Khan over a drink, King Khan said,
"The other day I was sitting with Salman or rather I just walked in with my son. When I walked towards him, suddenly Salman said 'We are so lucky! God had given us so much. You know at our age, people are preparing themselves for retirement, but we are really fortunate. Chal let's have a drink!' but I realize that when he is saying something like that, it has a strange amount of familiarity that how grateful we are. I can't explain to people what I feel, but I completely understood what Salman said. I will be very honest, if you are in field of work that we are and if you aren't late sleepers like me or Salman, you would hardly get time to even meet each other. If we meet each other too often, people say 'May be you are having a relationship' and the is one last rumour I want hear that 'I am in a relationship with Salman' because that's the only thing left to be said or written about."
Also Read: Why Ranveer Singh & Ranbir Kapoor CAN'T be the next Salman Khan & SRK! Karan Johar explains
Shah Rukh Khan also revealed why it is very difficult to meet Aamir Khan as compared to Salman.
" Salman and I take time out to meet, but Aamir when he is working, he is extremely strict. He is like '9 Baje Soo Jaunga, Main Nai Aaunga' so we don't meet that often," said SRK.
Shah Rukh Khan's upcoming films include Dear Zindagi, Raees, The Ring and Aanand L Rai's untitled film.