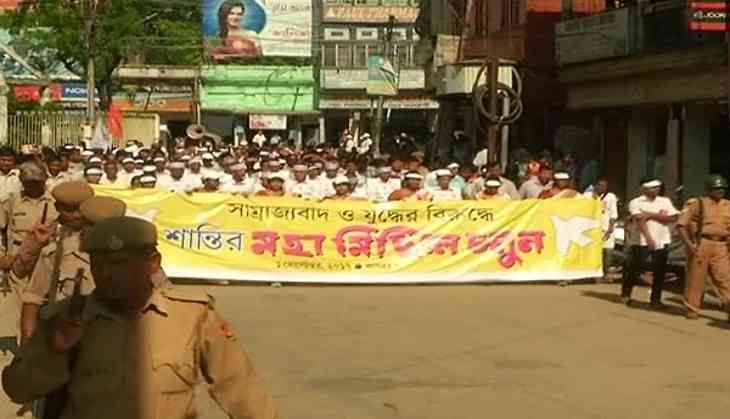 Second World War denounced in Tripura. (ANI)
Massive protest rallies were organized in Left-ruled Tripura to denounce World War II on its 78th anniversary on 1 September.
Parliamentarians, legislators, intellectuals, artists, writers, poets, social activists, journalists and people, including women and children from all walks of life voluntarily took part in the protest that went through the streets of Agartala.
Protesters carrying placards of anti-war slogans sang songs, recited poems and raised slogans defaming the war and ongoing conflicts across the globe.
Protesters raised their voices against the indiscriminate massacre of civilians, including women and children during the war.
Tripura Chief Minister and Communist Party of India-Marxist politburo member Manik Sarkar, all three Members of Parliament - Jitendra Choudhury, Jharna Das Baidya, Sankar Prashad Das, Deputy Speaker Pabitra Kar and several other top Left leaders also took part in the peace procession.
The World War-II had begun in the early hours of 1 September, 1939, when the German battleship Schleswig-Holstein fired on the Polish fort of Westerplatte and subsequent the attack on Poland by Adolf Hitler's Nazi regime led Britain and France to declare war on Germany two days later.
World War II was the deadliest conflict in human history, marked by 50 million to 85 million fatalities, most of which were civilians in the Soviet Union and China.
-ANI