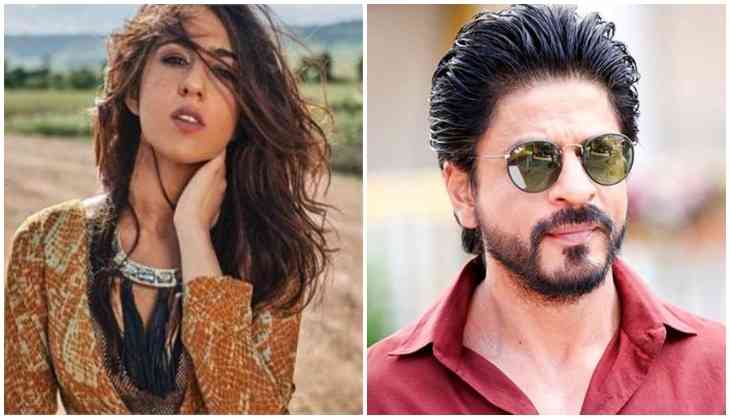 Shah Rukh Khan-Sara Ali Khan
Sara Ali Khan rubbished the nepotism by proving herself in the last two films, she emerged as the most talented actor after all she is the daughter of the two tremendous actors Saif Ali Khan and Amrita Singh. A few months ago Sara was trolled by the fans as insensitive and racist. She made her magazine debut were in the background we saw an African man. She was trolled for using Africans as her backdrop.
Now you must be thinking why I'm talking about all this so let me tell Sara is again hitting headlines but this time not for any breakup reasons but for calling SRK uncle. Yes, she is being trolled for this peculiar reason, recently at an award show both were standing and she addressed King Khan as uncle and now whole twitter is going crazy over it.
One Twitter user even commented that if not uncle then what she will a 50 plus man to which fans replied she should have addressed him as 'sir'. Sara and SRK have not yet commented on it but I believe even they must be laughing over this trolling.
Sara Ali Khan called SRK uncle at Filmfare and people are trolling her. What do you expect a 23 YO to call a 50 plus man who is in real life, older than her father? Stupid fans need to accept their hero has aged enough to be called uncle.

— ਪੰਜਾਬ ਨਾਗਰਿਕ (@akdwaaz) March 27, 2019
Even i'm furious at Sara Ali Khan and totally support people who trolled her. How could she call SRK uncle when he looks like a grandfather to her?

— Neeche Se Topper (@NeecheSeTopper) March 28, 2019
Has the 'uncle' himself any problems with her addressing him so? .. most likely NO.

— Aam Aadmi The Indian (@IndianAamAadmi) March 28, 2019
What a peculiar reason to troll an actor, let us know what are your views on this whole trolling in the comment section below.
Also Read-
Gully Boy actor Ranveer Singh launches independent music record label 'IncInk'